Matt Damon and Ben Affleck are about to reunite on screen in Ridley Scott's hotly anticipated film The Last Duel. The movie takes place in 14th century medieval France and fans are wondering whether the plot is based on a true story. We take a look at the trailer, cast and historical book that inspired the film.
What is The Last Duel about?
Ridley Scott's The Last Duel centres around knights Jean de Carrouges (Damon) and Jacques Le Gris (Adam Driver) after Le Gris is accused of raping Carrouge's wife, Marguerite de Carrouges (Jodie Comer).
However, in medieval France the justice system was quite different to our modern day courts. The film explores the trial-by-combat tradition, which sees two knights pitted against each other in a judicial duel. A duel that could only be settled by deadly force.
NETFLIX: Will there be a second season of The Cook Of Castamar?
It was a tradition in medieval France. The belief was God would decide the victor, which is why trial by combat was also known as 'the judgement of God'.
However, if Carrouges dies and loses the duel, his wife will also be put to death. These are some high stakes.
This is the first writing collaboration between Damon and Affleck since Oscar-winning Good Will Hunting. They are also joined by scriptwriter Nicole Holofcener.
Damon said about this collaboration process:
"It's really this movie about perspective, so Ben and I wrote the male perspectives and Nicole wrote the female perspective."
TRENDING: What is the meaning of the feather in Blue Origin's logo?
Is The Last Duel based on a true story?
The film is inspired by and based on Eric Jager's The Last Duel: A True Story Of Trial By Combat In Medieval France.
Jager has said: "After reading the nearly final script for Sir Ridley's production, I was thrilled that it caught not only the spirit but a great deal of its substance as well."
The Last Duel explores a real historical moment, the last sanctioned duel in medieval France.
The real life events took place on 29 December 1386, when Norman knight Jean De Carrouges fought Jacques Le Gris, a squire, after he was accused of raping his wife Marguerite de Carrouges, or Marguerite de Thibouville, in January of the same year.
MOVIES: Who is Pastor Cyrus Miller from Fear Street?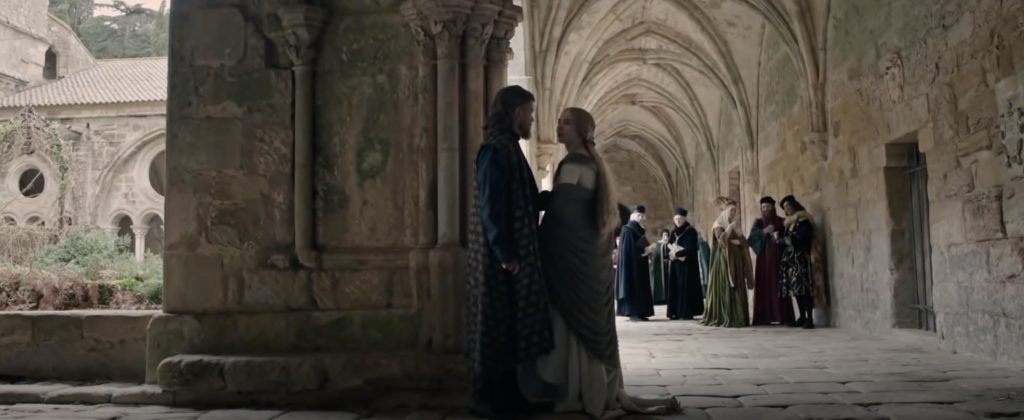 Marguerite told her husband about her sexual assault and he brought it to court – but her claims were dismissed. Carrouges even tried to appeal to the king, Charles VI, and was granted a trial by combat.
Eric Jager stated this was highly unusual in medieval France at the time:
"A 1306 royal decree based on ancient precedent allowed the duel as a last resort for nobles involved in capital cases – eg, murder, treason, and rape – but by now judicial duels were extremely rare."
These themes are still incredibly pertinent in the wake of the MeToo movement, and seem to transcend historical periods.
While we won't tell you who won… you can find out potential spoilers for the film by reading Jager's essay The Woman In Black about Marguerite de Carrouges.
If you want to delve deeper into this history you can buy the book on Amazon here, and there was also a BBC Four adaptation of the book broadcast in 2008.
When is the film being released?
The Last Duel is set to be released in cinemas on 15 October 2021 in both the US and UK.
The cast includes Matt Damon, Adam Driver, Jodie Comer, Ben Affleck as well as Harriet Walter, Nathaniel Parker, Sam Hezldine and Michael McElhatton.
Related Topics