Living la vida Vivarium
Mubi, Curzon, Amazon and Netflix are all brilliant platforms to be thankful for at the moment. Whether independent films and culture, new releases, exclusive productions or some reliably light entertainment, you can be sure these old faithfuls have your back during this time of need.
Disturbingly dystopian yet endearingly creepy, one film released only last weekend is Vivarium. To properly set the scene, a vivarium is the reptile equivalent of an aquarium. A 'cage' in which the animal can see out and you can see in while your worlds remain comfortably divided until the time you want to release your pet from captivity.
The movie is available on Curzon Home Cinema, a video-on-demand streaming service available in the UK and Ireland. There's no subscription, which makes this a sustainable platform for one-off purchases when new media is released.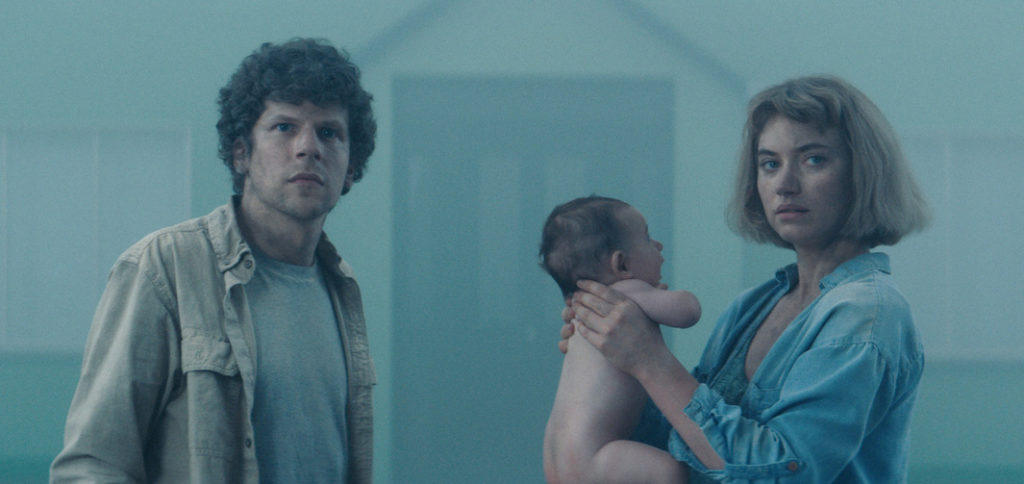 With a strong and believable cast, including Jesse Eisenberg and Imogen Poots, the story depicts young, unassuming house-hunters Tom and Gemma, who are looking to make their own way in the world.
Notes of idyllic suburban life are cleverly juxtaposed with the reality of being deprived human connection with society – a notion set in concrete the moment they meet estate agent Martin (Jonathan Aris).
Less pushy, more peculiar, Martin takes the couple to a viewing they will never forget. Passing the housing development sign (literally the largest sign in the film) that states 'You're home', things become increasingly sinister. Once it dawns on the couple Martin has vanished, they can't find the exit to leave the housing estate. Reluctantly, they have to admit defeat and come to the conclusion they're not just lost, they're trapped.
If that's not panic-inducing enough, it becomes apparent the deviant disturbances have only just begun. Further exaggerated by the amazing performances of Senan Jennings (young boy) and Eanna Hardwicke (older boy), the film's labyrinth of loopholes darkens when an ominous package arrives, which seems to offer a glimmer of hope the couple will be released.
Interesting parallels into how social interaction and norms, imprinting, and conditioned or learned human behaviour are creatively displayed through the decidedly disconcerting performances of Jennings and Hardwicke.
Dastardly devious while fighting a constant battle between nature, nurture and the unknown, this film uncomfortably conditions you into a pseudo captive mindset where, despite wanting to escape, you stick it out to the end in the naïve hope of reward.
Insightfully insidious, rated 70% on Rotten Tomatoes, the film expertly captures the suffocating metaphor of society's traps, reality and our own selfishness. Vivarium is worth a watch if you're looking to disrupt your lock-down routine, if only to momentarily distract you from reality.
Related Topics