With many countries now in lockdown, life currently feels very much like a horror movie – perhaps the most unsettling aspect being that nobody knows for sure when normality will be restored.
Given these unprecedented times in which people may now only leave home for essential purposes, it is safe to assume a lot of people are going to get very bored very quickly.
One of life's great antidotes for boredom these days is Netflix and currently making waves on the media-services provider is Spanish film 'El Hoyo', or 'The Platform' to English speakers.
Directed by Galder Gaztelu-Urrutia and starring Ivan Massague, Antonia San Juan, Zorion Eguileor, Emilio Buale Coka and Alexandra Masangkay, 'The Platform' – available to watch dubbed or with subtitles – is one helluva ride.
This uniquely simple sci-fi horror-thriller takes place in a vertical prison, which sees two people occupy each level. Each day, a platform of food passes from top to bottom through these levels and inmates have two minutes to grab what they can before it descends. The lucky individuals towards the top have the freedom to cherry-pick whatever they like, but those down in the depths are not so fortunate.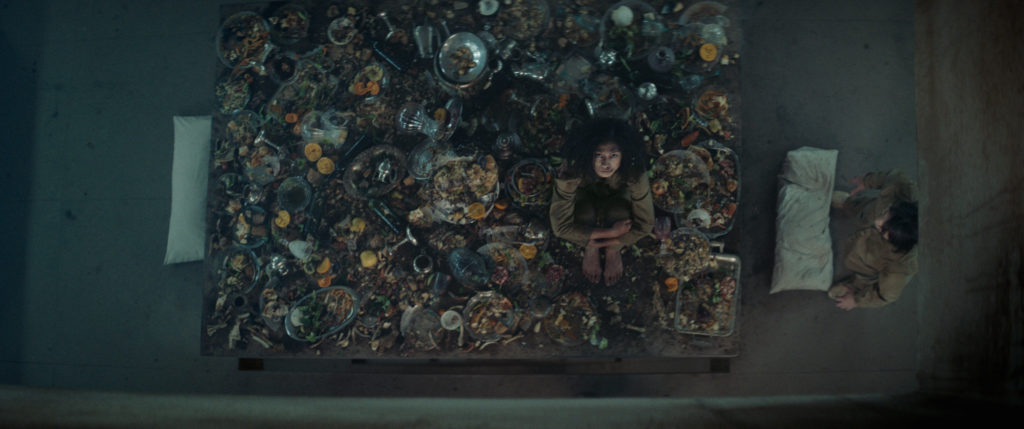 Essentially, 'The Platform' couldn't really exist at a better time. Gaztelu-Urrutia's suspenseful and, at times, brutal offering does a wonderful job of reflecting our reality right now.
Although panic-hoarding in the UK prompted by Covid-19 appears to have died down slightly compared to a couple of weeks ago, it is without a doubt still going on in some parts of the country, sadly.
In 'The Platform', it becomes clear quite quickly that those at the bottom are going to struggle as a result of the greed shown by those above them.
The level of gore makes this an uncomfortable watch at times, but perhaps most disturbing of all is the accuracy of its metaphor – if we all just took what we needed, the more vulnerable members of society would stand more of a chance.
Should we all be restraining ourselves slightly in a bid to help our elderly and vulnerable neighbours during these frantic and uncertain times? 'Obviously…' (if you know, you know).
Related Topics