Although Hollywood stars now use wig hair and tons of makeup to transform into the character they're interpreting, Demi Moore went the extra length and completely shaved her head for her role as GI Jane. Today marks 25 years since it was release, let's take a look at Demi's incredible role
Directed by Ridley Scott, GI Jane dives into the fictional story of Jordan O'Neil. In the movie, she is the first woman to undergo Seal training in a response to the political pressure from Senator Lillian DeHaven, which introduced the involvement of females in the military services.
As her character faces discrimination and sexual attention for being feminine, despite its difficulty, she ends up breaking all the stereotypes. She proves people wrong who thought she wouldn't be able to make it through.
Despite its plot, the movie's takings fell slightly short of its $50 million budget, only grossing $48.1 million domestically.
Demi Moore on her GI Jane hair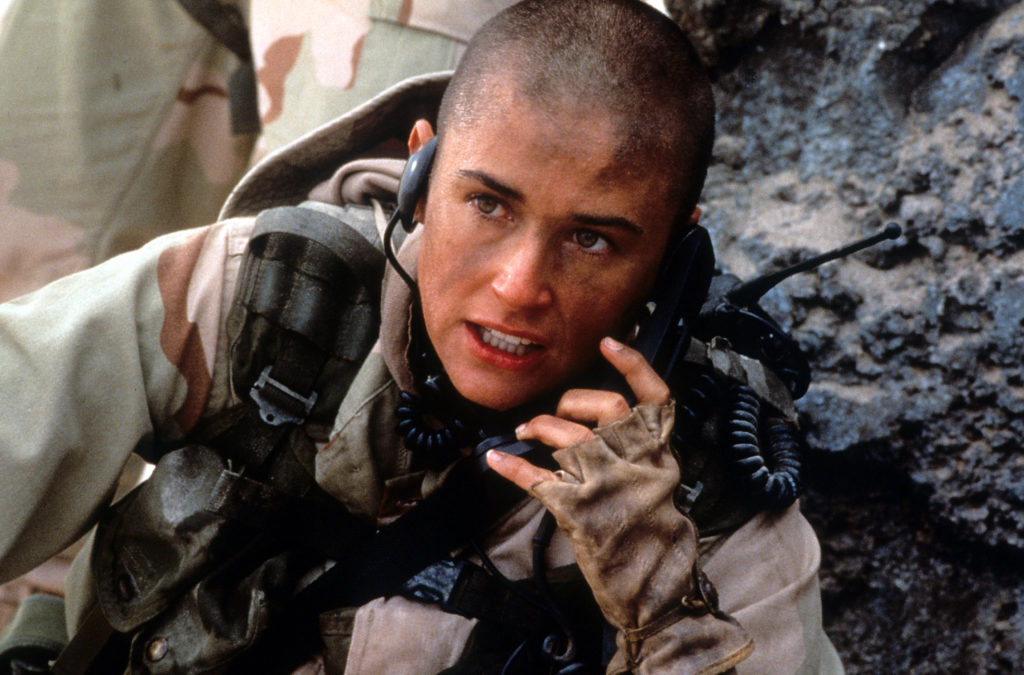 Demi isn't the first and last Hollywood actor to have shaved their head, however, in order to get into her character's mindset, the star did what she felt she had to do.
Many years after the film was released, the actress confessed that now she would not be so easily convinced, since she has nothing to "prove".
Getting candid with Aceshowbiz, the actress said: "I think now that I'm older, I also know, I don't have anything to prove. So if they really need my hair different, they can give me a wig."
Becoming strict about her hair
Over the years in the Hollywood world, Demi tried a variety of different hairstyles, lengths, and colors to meet her character's needs. Now sporting super long and voluminous hair, the actress has grown fond of her locks.
However, the Ghost star revealed she finds it "stressful" when people touch her hair, which is why she does "as little as possible" when hairstyling it.
Vowing to keep her hair long and speaking out about different stereotypes, she told the news outlet: "I remember hearing someone say that when women get older, they shouldn't have long hair. And something about that stuck with me."
She added: "Like who says? It made me feel like, well, if it can grow and it's not unhealthy, then why shouldn't we? I'm not comfortable with rules that don't seem to have any real meaning or justification."
Chris Rock's 'GI Jane 2' comment
During the Oscars ceremony in 2022 the movie GI Jane was thrust into the limelight. Host Chris took to the stage to share some jokes with the audience, but he made a quick remark on Will Smith's wife Jada Pinkett Smith, which didn't go down as planned.
"Jada, I love you. GI Jane 2, can't wait to see it," he joked as the audience laughed. Moments later, an unexpected onstage altercation took place and the Fresh Prince star slapped the comedian.
Jada suffers from a hair loss condition called alopecia areata.
Will later apologized for his actions on social media, apologizing to the academy as well as to Chris Rock. The Board of Governors also announced the actor will not be permitted to attend the Oscars or any Academy Awards-related events for the next 10 years. No arrests or formal charges took place.