A covid-19 lockdown in a 'compound house' in Ghana, built with a single detached bathroom for everyone's use can be difficult. Some of these compound houses are built with as many as 10 single rooms, each being occupied by a husband, wife and their children.
The compound house situation is even worse in squalid communities where stepping out from one's house means entering another compound house, and where using a shower or toilet requires you to join a queue. The houses in these communities are somehow intertwined, only a few are built with washrooms and most of them are definitely not fenced.
Ghana enforced a three-week partial lockdown as part of measures to flatten the curve of the novel coronavirus spread. With the lifting of the lockdown came the enforcement of social distancing and wearing of nose masks. Other restrictions including the ban on public gatherings and the closure of schools remain in place. The government is also encouraging people to stay at home unless it is absolutely necessary to go out. But for households in certain neighbourhoods in Accra, these measures might be impossible to comply with.
''Nothing has changed''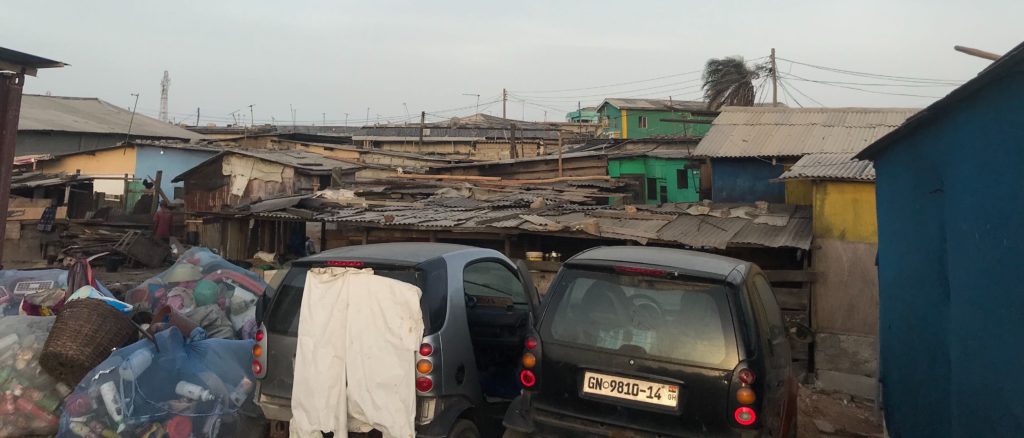 33-year-old Benjamin is a taxi driver and a father of five. He lives in Chorkor, a densely populated fishing community, with a population of over 300,000 (according to the 2010 population and housing census), in Accra, Ghana's capital city.
Living in a 10-room compound house, each room occupied by at least five people, and with no washroom, he pays 1cedi ($0.17) to use the public shower and 50 pesewas ($0.01) to use the public toilet. This is the case for many residents of this community.

In some cases there are more than 10 people living in a single room and operating a shift system where some of the people sleep during the day, while the others are working, and the other half sleep during the night, while the others go off the work.
Benjamin believes, in spite of this, that they cannot be infected by the novel coronavirus because, according to him, "the sea breeze moves it away".
"Because of the sea breeze here, we don't think we are at risk. We live as we used to, nothing has changed," Benjamin says, from the beach where he stood bare-chested.
There's no doubt that covid-19 has changed the world, but for some people living in Chorkor, life is pretty much the same.
Bernard laughed as he joined the conversation. Also a taxi driver, the 35-year-old has lived in this neighbourhood his whole life.
He says should he be infected, more than 130 people have to be traced and quarantined immediately, because even before the first case of covid-19 was confirmed in Wuhan, people lived in Chorkor as a family "and that cannot be changed in a day"
"We don't know who has and who doesn't have the virus. we sit, talk and eat together. Even when you're drinking water, someone will ask to drink from your cup too," he says.
Traditionally, the people here also believe that the water from the sea cures diseases and heals the sick.
"We believe that bathing in the water washes away any form of disease, so as for me, my sanitiser and my soap is in the sea" says Bernard.
A few metres away, Adjeley is lying on a mat with her 22-year-old daughter. Not too far from her house, some children are lined up at the beach, defecating. The mother of five lives in a compound house just by the sea.
Before covid-19, Adjeley worked for Zoomlion Ghana Limited (a waste management and environmental sanitation company), sweeping and cleaning certain areas in Accra.
She says it is impossible for her to suddenly begin relating with people differently in the name of social distancing, but she is protecting herself by doing other things.
"I eat healthy and drink a little apketeshie (a locally brewed alcohol beverage). I wash my hands with some of it too," she said turning to her daughter as they both nodded in agreement. 

Even though the World Health Organisation (WHO) has warned against the consumption of alcohol as it, in fact, weakens the immune system 'thus reducing the ability to cope with infectious diseases', it appears the myth that alcohol kills the virus that causes covid-19 is still strong and widely accepted in some communities.
Football and physical activities continue at the beach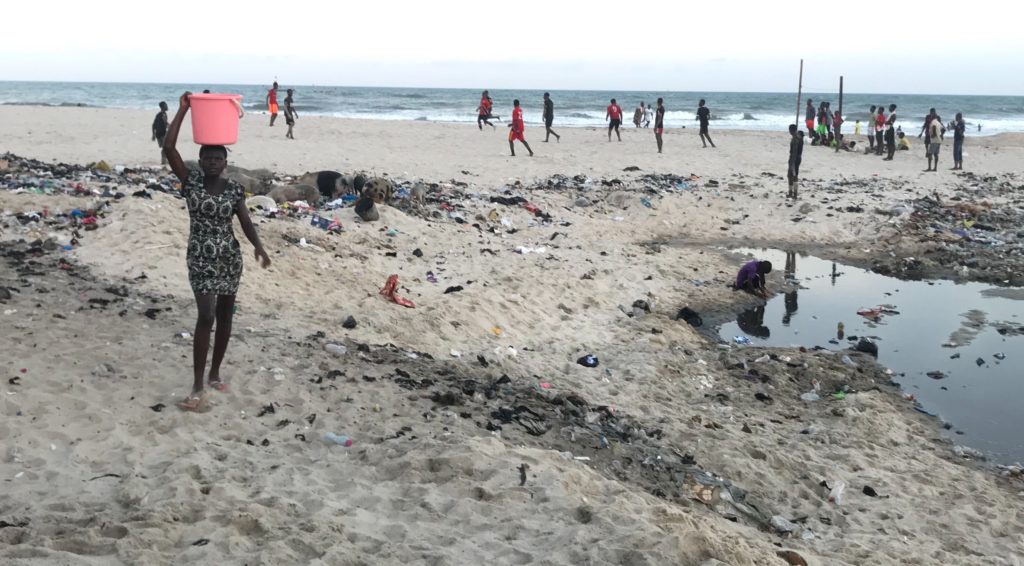 It's a few minutes to sunset and the cold breeze from the sea battles the sweat on the skin of these young footballers.
All sporting activities have been put on hold, stadiums are closed and football pitches are generally empty, but more than 100 young people are gathered at the beach in Chorkor, some in their jerseys and others shirtless. There's is also a gathering from the community watching and cheering on their favourite teams and players.
Most of these young footballers play either at the Premiership level, in Division One, Division Two or for Under-17 teams. Since the novel coronavirus hit the country, they have been forced to stay at home but they haven't stopped playing football or training.
"I am a trainer. I used to to train three times a week but because of the virus, I can no longer go to gym. Playing football at the beach, in the evening, is my only chance at training," says Bernard.
He says there are a number of players from the national teams and some from the Ghana Premier League who come to the beach every morning to train.
"We are aware that a deadly virus is out there but not playing football is difficult on our mental health. I feel staying at home would even kill a footballer faster than the coronavirus."
Samuel Afranama is a Tae Kwon Do trainer. He trains about 30 young people between the ages of 10 and 30. They used to train at the gym but because of the virus, their training is now at the beach. He has heard that exercising is a great way for the body to fight covid-19 so he is encouraged, now more than ever, to train more and more people.
He says the training is not only for self-defence but also to ensure discipline and fitness, especially in these times.
"The youth in this community are usually perceived to be aimless. Though this training is for self-defence, my hope is that this would be a platform for me to help them to become more focused and disciplined," he says.
Not one of them is wearing a nose mask, but the nature of the training requires that they stay at least two metres apart, so as far as social distancing is concerned, Samuel and his team say they are complying.
"We strike with our legs and hands so we can't be too close to each other. You might hit someone if you're too close," he says.
Many children could drop out post-covid-19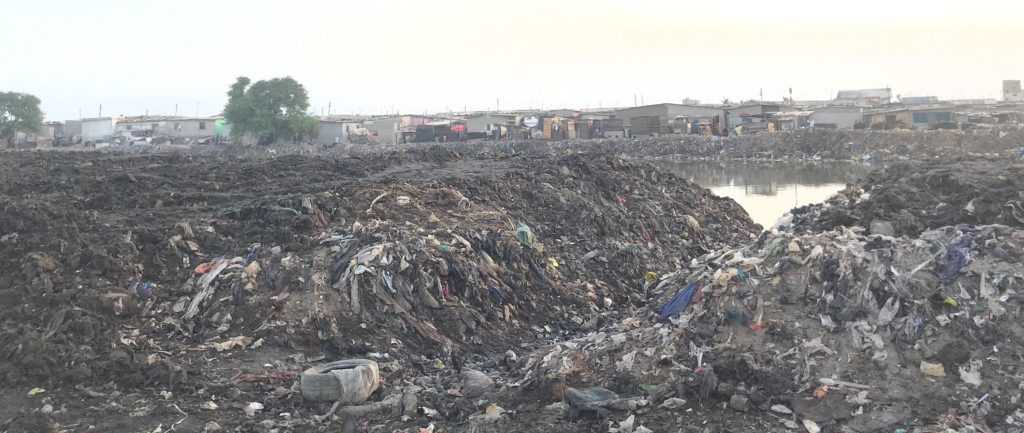 Eklukai, a mother of four, is anxiously waiting for her life to become normal again. She is now a stay-at-home mother because schools are closed down and her younger children are forced to stay at home.

She says water hasn't flowed through her taps in two weeks, and after going through a lot of trouble to get water from the next community, Eklukai is now spending her evening trying to get her children to take their bath.
"We are strongly praying for this virus to pass so that the children can go back to school and we can also start working again," she says.
Some parents and teachers may have found a way to keep children still learning, even on lockdown, but for parents in Chorkor, their children are on a very long vacation and they have no option but to wait for schools to reopen.
As schools have been closed down in many parts of the world, online learning has become more than just an alternative, and many schools are finding no difficulty moving their lessons online. But some parents in this neighbourhood do not have the resources, the skill or drive to have their children join the online community.
Even before the world came to a standstill, school dropouts and teenage pregnancy were major problems in Chorkor and, by look of things, it will only become worse.
Education is not exactly a strong suit for children in this community, they'd rather make money taking on menial jobs, and with covid-19 closing down schools, it's likely more of these children will become dropouts at the end of the pandemic.
A football pitch during the day, a worship centre at night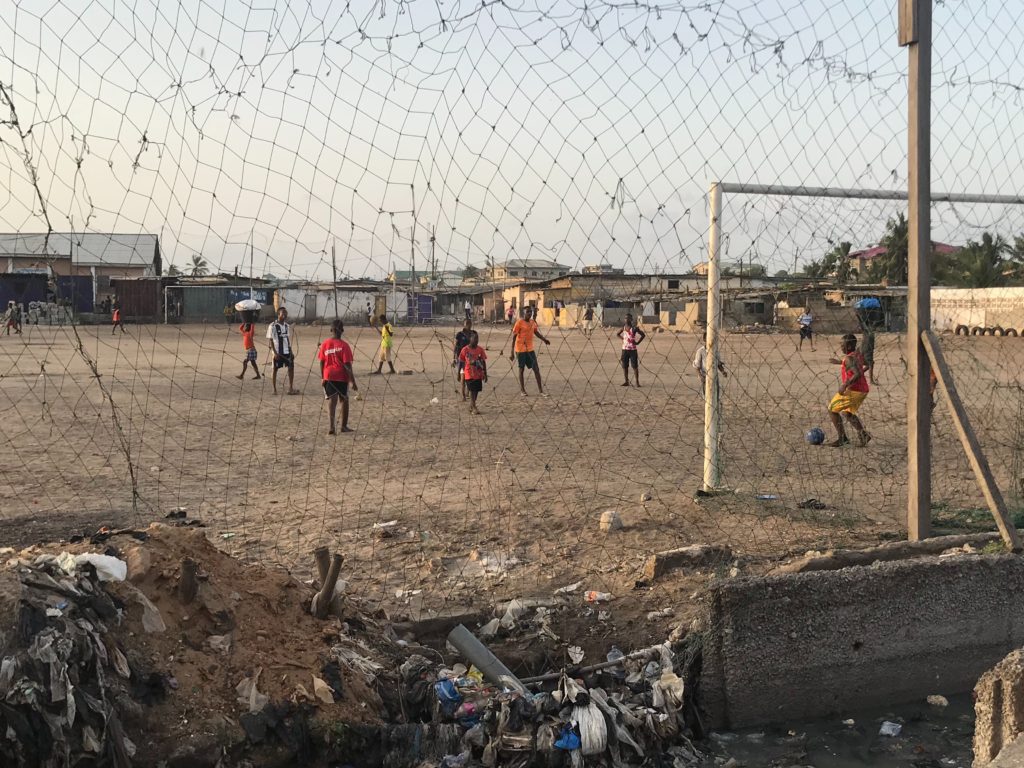 It's 7pm, and there are several torch lights piercing through the dark; there are shouts of 'amen' and 'hallelujah' coming from a football pitch in Chorkor. People are gathered in groups, across the football field. Each group has about 15 members, they are standing in circles and with no hint of social distancing.
Though churches are locked, their activities haven't ceased. Without observing social distancing, they have been gathering on the football pitch at night.
"Their grandparents were told to go to the beach to defecate too"
Try taking a photo in Chorkor without the people's permission or a tour guide from the community and you may leave there without a leg.
"You will take a photo and upload on social media, saying that we are crowded at the beach? We are not happy with how we are treated. People perceive us in a certain way and no matter what we do, it is seen as bad," Bernard says angrily.
He went on to speak about the defecating situation at the beach and why he thinks the problem has never been tackled holistically.
"For instance, children defecate at the beach because their parents, as children, were also taken to the beach whenever they wanted to use the toilet," he says.
"Their grandparents were told to go to the beach to defecate too. You need more than building a single public toilet to change that kind of thing!"
Whether it is ignorance, social norms, religion or culture, whatever the reason may be, as far as covid-19 is concerned, the people in Chorkor are not fazed at all. They continue to live their lives as before.
Related Topics