Howbusyistoon delivers real-time information about footfall in Newcastle upon Tyne's city centre.
Users can see how busy the city is and decide whether it is safe to visit. The website also has up-to-date information about the number of spaces in city centre car parks.
The website was created by Newcastle University, Newcastle City Council and NE1. Data comes from video cameras that measure footfall levels on Northumberland Street. Information is updated every five minutes.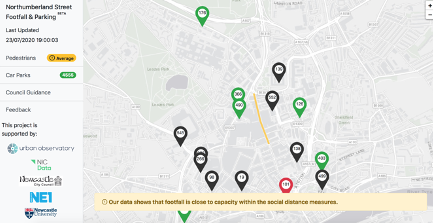 Steve Caughey, director of National Innovation Centre for Data (NIC), worked on the project. He said: "local authorities have responsibility for controlling covid-19 outbreaks.
NIC handles data analytics, so our primary role was taking relevant data, making sense of it and presenting it in a meaningful way".
There were no costs for technical contributions from Newcastle University. However, the team is pursuing funding to expand the website to cover more areas.
In the future, the team hopes to integrate data about public transport.
Caughey said: "we need funding if we are to further develop the website. Somebody has to be paid to support and maintain it."
Howbusyistoon had a soft launch at the beginning of July. Since then, the site has had over 25,000 visitors and received positive feedback from users.
Newcastle has seen an increase in its number of covid-19 cases with Public Health England recording an increase from 3.3 per 100,000 people in the week leading up to July 11 to 4.0 to July 18.
The city's Christmas celebrations will be cut back this year in response to the coronavirus crisis. There will be no repeat of the travelling stalls around Grey's Monument and Northumberland Street in 2020 due to uncertainty over the virus and what social distancing measures would be required.
Related Topics