For years, my main aim of exercise was to lose weight and be fit. I didn't think yoga fitted into that plan. If I had a free hour, why would I spend it doing yoga, I reasoned to myself, if I could do something that I could feel working?
However, over the years, friends have raved about the multiple health benefits of yoga, and I considered trying it. Yoga is supposedly helpful for high blood pressure, heart disease, aches and pains, depression and stress. It was one of the things that I wanted to try during lock-down, but seeing as I already had a regular Pilates and cardio schedule, I didn't know where to fit it in.
So, when a friend told me about the 30 days of yoga challenge on the Yoga with Adriene YouTube channel, I decided to give it a go. I didn't think I would make it through the 30 days, or if I did, I would have to take a few days breaks here and there.
But actually, you know what? I did it – all the way through from beginning to end. And it wasn't so bad.
The fact that the videos were free and readily available made my yoga challenge easier to stick to. I didn't have to think about what I was going to do each day or search for the workout online. I am rubbish at persevering with things, so I'm pleased I stayed with this, and it meant I was able to keep something up for 30 days. I also feel like I had developed a new habit.
Doing my yoga workout in the morning made it much easier to show up on my mat. However, there were days when this just wasn't possible, so I had to do it later.
These are some of my main take-aways from my 30 days of yoga:
Show up with no expectations
My main objective was to complete 30 days of yoga. Anything else was a bonus. Therefore, I made yoga a priority. I was actually surprised by how easy it was to fit it into my day, once I had made a commitment. Often showing up on my mat each day was the core thing.
Celebrate the small wins
I struggled with my flexibility at first, which surprised me as I always thought I was pretty flexible. I'm not sure if I'm massively flexible now, but I have finally managed to perfect the tree pose, which has given me a sense of achievement.
There's been a few times (okay a lot of times) when I struggled with the poses; with my flexibility and stamina. However, several occasions, I felt that I was quarter of a way there, and I felt this was an achievement.
It adds strength
Another aim of doing yoga was to support my running and stretch me out. I really didn't expect to see any major physical changes, however I was pleasantly surprised. My body was stronger and more toned. I could see the outline of my abs and I had lost a lot of external fat around my lower stomach. Not the main aim of my practice, but definitely a bonus.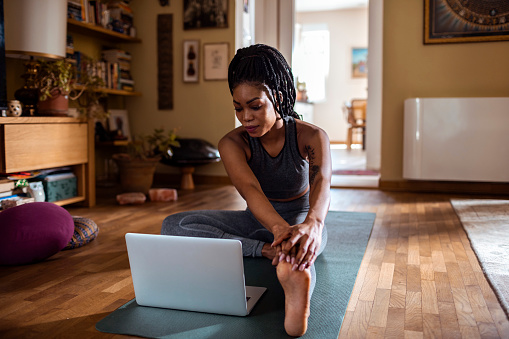 Yoga glow is a thing
Yoga works to improve your digestion and circulation and when your body has better blood flow, it naturally produces glowing skin. I actually noticed that I looked healthier and glowing over the course of the 30 days.
Yoga is playtime
One of the things that Adriene stresses is that yoga is playtime. Yoga is definitely not easy, but it's fun. Put a positive spin on it, think 'I get to do yoga today' rather than 'I have to do yoga today'.
What happens next?
This is the question- what happens next after my 30 days of yoga? I haven't quit yoga after the 30 day challenge. I actually felt that I couldn't imagine not rolling out my mat each day and doing a bit of yoga, so have started another 30 day challenge. And once that's finished, maybe another one?
Overall, I'm pleased that I tried a 30 days of yoga challenge. I really wanted to try yoga and this gave me a way to incorporate this yoga into my daily routine. Yoga is a tonic for body and mind.