Excited for 2021? So are we! Here is a rundown of the top 10 games to look forward to this year and one to keep your fingers crossed for.
While 2020 was a terrible year for most of us with the advent of the coronavirus pandemic that continues to impact our everyday lives, it has played perfectly into the hands of the video games industry.
Of course the industry isn't immune to the restrictions that make producing anything of note difficult. But with people consigned to their homes more than ever before in history, gaming hours have gone through the roof.
And with a new year comes new hope that the pandemic will eventually ease.
But, for the first half of the year at least, it appears video games consoles and new kids on the block PS5 and XBox Series X will continue to have a very captive audience.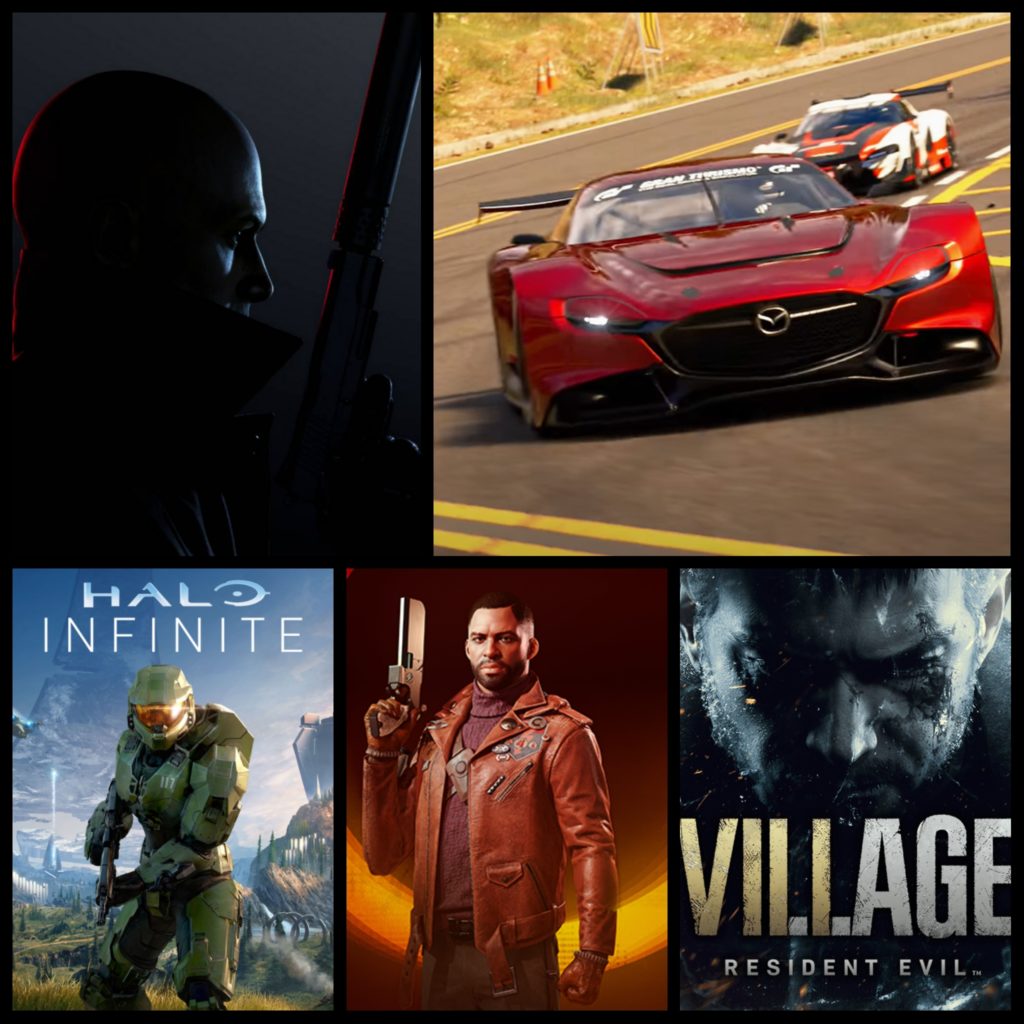 So what games do we have to look forward to in 2021 on the new machines and the Nintendo Switch?
Here's our top 10 games to look forward to in 2021 – and one which we hope may be released towards the end of the year.
1. Hitman 3
In terms of release this is the first up, as it launches this month, on 20 January.
The next instalment in Agent 47's hire-to-kill stealth spree looks great and will be the first game in the cult series to be released on a Nintendo console – the Switch – and also fully playable in VR, PSVR specifically.
2. Halo Infinite
Originally meant to be launched alongside the Xbox Series X/S, Halo Infinite sees the return of Master Chief. The game has been rather disappointingly pushed back to an as yet TBC date in 2021, but if we know Halo, it will be well worth the wait.
3. Gran Turismo 7
Always one of the headline acts of any new PlayStation launch, Gran Turismo's seventh instalment will be speeding onto our screens in Q1/Q2 of 2021. Trailers are jaw-dropping and GT is known for being a benchmark game in each generation of console which shows off the power of the new machine.
4. Death Loop
One of the most underrated games in my time playing consoles since the 80s has to be Dishonoured. Well Arkane Studios, who created that brilliant steampunk title, are back with another new world.
The premise for Deathloop – and the gameplay and trailers we have seen so far – look great. You play an assassin stuck in a time loop. This one has plenty of promise and is released in June 2021 on PS5 and Windows.
5. Resident Evil Village
Another generation of consoles and another Resident Evil. But RE Village is a new game in its own right not a remake like the last few we have seen in the franchise.
It is the 25th anniversary of this classic horror shooter with some of the supernatural thrown in. RE7 protagonist Ethan appears trapped in the titular village with what look like zombie-werewolf mutants. Slated for an April launch across all platforms.
6. Horizon: Forbidden West
The sequel to the hit Horizon Zero Dawn was one of the major titles to be revealed for the PlayStation 5 ahead of launch. It did not make it in time, but Aloy returns with date TBC in 2021.
The word is that her next adventure, Forbidden West, will take place in post-apocalyptic California. If it is anything like the first, with the added power of PS5, we're in for a treat.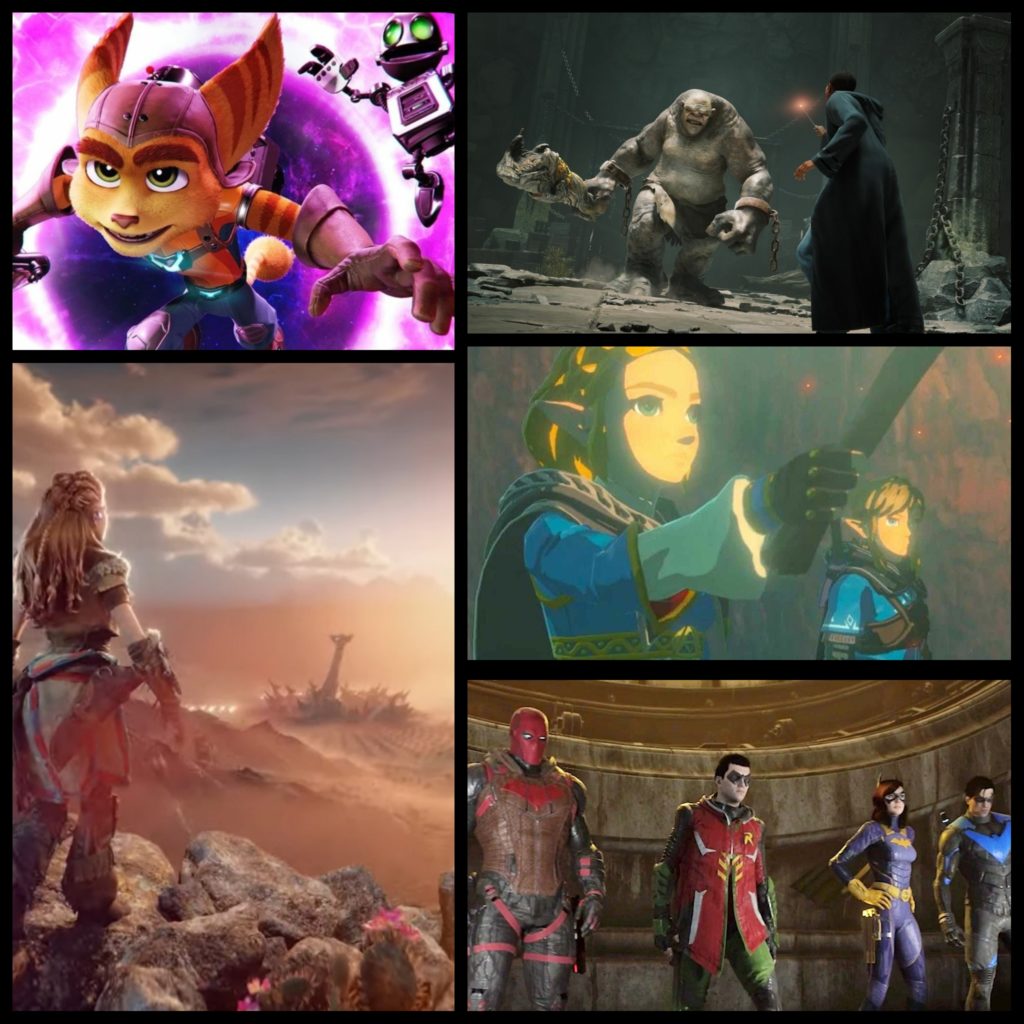 7. Ratchet and Clank: Rift Apart
If you haven't seen footage of this yet, get on YouTube, as it looks absolutely stunning.
The PS5's powers look set to be pushed to the limit in this jaw-dropping new adventure for the titular duo, as you warp between multiple different realities. And fingers crossed for no loading times! Another with no fixed date yet but will release in 2021.
8. Hogwarts: Legacy
There have been Harry Potter games in the past but none that really do the novel series justice. This looks set to be one of the first serious attempts by a game to portray the wizarding world outside the time of Harry Potter.
We are promised a full-blown RPG, with the Hogwarts houses serving as your starting classes. You'll get the full wizard school experience, learning spells, crafting potions, and exploring the whole castle. Out across all platforms at some point in 2021.
9. Gotham Knights
Action-adventure Batman returns this year in Gotham Knights across all platforms. The game's story takes place some time after Batman's apparent death. A rise of crime and lawlessness in the city leaves Batman's allies – Nightwing, Batgirl, Robin, and Red Hood – as the only ones able to restore justice to Gotham and prevent it from descending into chaos.
Cannot wait for this one.
And with any luck…
10. The Legend of Zelda: Breath of the Wild 2
The Legend of Zelda: Breath of the Wild 2 has been confirmed and, even though very little is known about it, it's undoubtedly one of the most hotly-anticipated games coming to Nintendo Switch.
Since the game's announcement during Nintendo's E3 2019 presentation, news about BOTW2 has been thin on the ground. But with Nintendo celebrating its 35th anniversary in 2021 don't bet against it being released this year.
Nintendo is famed for keeping things under wraps until they're truly ready. The only problem will be living up to what is widely recognised as one of the greatest video games of all time in its predecessor.
Related Topics