EA Sports' UFC series has easily set itself apart as the best combat sports video game available. That title has now passed to a new contender: UFC 4.
The latest instalment of this franchise is not a mere fighter update however; it takes the virtual MMA experience to a whole new level. UFC 4 brands itself as the most authentic and immersive MMA experience to date. That statement could not be more accurate.
You begin the game by creating your own MMA fighter and entering the game's hugely expanded and open-ended career mode. The room for fighter customisation is vast and down to every detail. There are five fighter types to choose from: Boxer, Kickboxer, Wrestler, Jiu-Jitsu fighter and Balanced, which is a slight mix of all disciplines.
Choose a weight class for your fighter to compete in and watch them go from backyard brawler to UFC world champion. As long as you train and win the fights of course, all whilst increasing your fighter's hype and fan base. Even if you conquer one weight division, you can look for a super fight to become a two-division champion.
Your goal in career mode is to become the greatest mixed martial artist of all time. As your fighter evolves and continues its journey, you will gain points which you can use to increase your fighter's skills. Career mode can be addictive as you chase the title fight and then can't resist defending that belt.
If career mode is too much effort and you just want a simple fight, then UFC 4 has got you covered. UFC 4 features a huge roster of 238 fighters across multiple weight divisions, all ranked by a star system of one to five. You can even play as non-UFC fighters such as Tyson Fury, Anthony Joshua and Bruce Lee. UFC 4 also apparently plans to update this roster with new fighters every few months.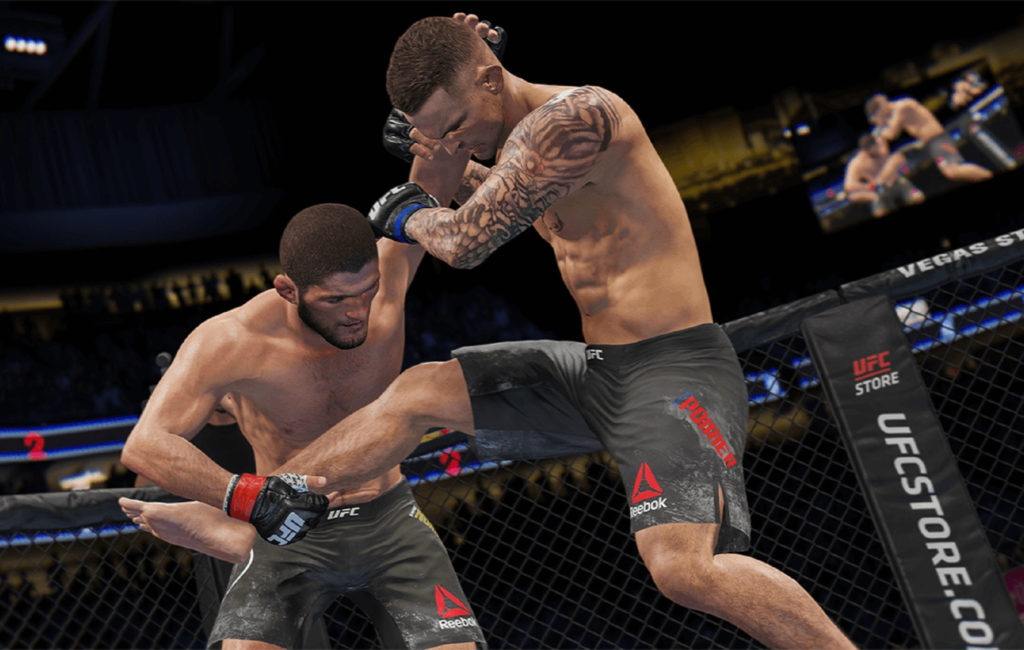 Another key feature of UFC 4 are its new online modes. You can take part in a quick fight with countless players online or take part in championships or Blitz Battles, which are basically mini tournaments where the rules change every day.
The gameplay and graphics themselves have been hugely revamped and upgraded, with the fighting of a life-like but cinematic quality and the actual gameplay being much more fluid and dynamic. For example, grappling, submissions and ground-and-pound are much more dynamic, as well as the new addition of clinch fighting.
Immersive arenas are another big part of the game that really give you that atmospheric and authentic experience. You can not only fight under the bright lights of the Octagon (complete with Bruce Buffer doing the introductions of course) but you can also fight in backyard battles or the Kumite Arena (which reminds me of a mix of Muay Thai and Mortal Kombat in its atmosphere).
This edition of EA Sports' UFC series feels as if no detail was spared, from the actual fighting to fighters being able to have customised taunts and celebrations to bring every bit of the action to life.
Undeniably, this is definitely the best UFC game to date. Let me rephrase that – UFC 4 is simply the best combat sports game to date.
It is available on Xbox One and PS4.