Is Pepper Thorne based on actress Bella Thorne? Some Fortnite fans seem to think so. Pepper was added to the seventeenth season of Fortnite: Battle Royale on 20 July 2021, and fans have already taken to Twitter to point out the resemblances between the game skin and Shake It Up actress Bella Thorne.
Who is Fortnite's Pepper Thorne?
Pepper Thorne is a Rare Outfit in Fortnite: Battle Royale.
The skin is part of the Opening Act Set, and was added to Fortnite: Battle Royale season 17 on 20 July 2021.
The seventeenth season of Fortnite: Battle Royale started on 8 June 2021 and it is to end later this year on 12 September.
Also known as Chapter 2: Season 7, its theme revolves around aliens invading the island.
According to Fortnite Wiki, season 17 follows the Foundation's attempt to seal off the Zero Point, causing the island to go on a Primal stage, where parts of the map have turned into an Autumn-like biome.
OLYMPICS: Who is Olympic swimmer Caeleb Dresse married to?
Aliens have started a full-scale abduction against the citizens of Apollo, with them successfully infiltrating the Imagined Order and using their technology to rip the Spire out of the map.
The location of the zero point is unknown but The Foundation was seen falling into the ocean, possibly being rifted to another reality.
The newest skin on the block is a musician. Pepper Thorne's Back Bling is a viola case with music-themed ornaments.
As for her in-game description, it states: "Ask her about her latest self-produced EP, Salty Slurpwaters."
You can choose to change Pepper's hipster look, as she comes with a glasses and hat option.
Pepper Thorne was added to the Fortnite Store on Thursday, 29 July, and is available now for 1,200 V-Bucks.
Does this mean Bella Thorne is in Fortnite?
After making her first appearance, fans of Fortnite: Battle Royal began wondering if Pepper Thorne could be based on actress Bella Thorne.
CELEBRITY: Meet NBA star Jaxson Hayes' model girlfriend
One Reddit user noticed that Pepper Thorne could be a play on the actress' name, as the words Bella and Pepper kind of sound like "bell pepper".
Over on Twitter, fans have noticed the physical resemblances between the Fortnite skin and Bella Thorne.
Pepper Thorne could also be an obscure reference to Bella Thorne's 2017 alleged relationship with YouTuber Sam Pepper.
Who is actress Bella Thorne?
Annabella Avery "Bella" Thorne is an American actress, model, and singer.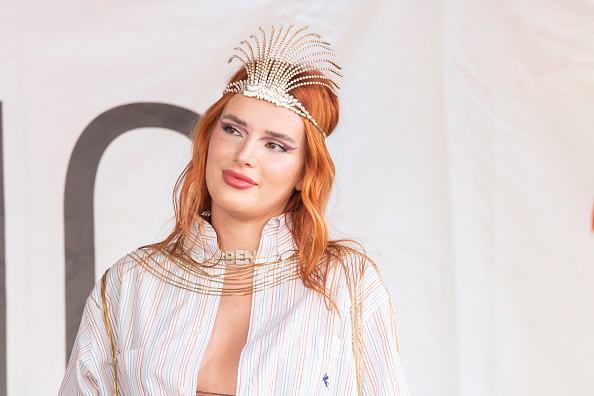 The 24-year-old gained prominence for her role as CeCe Jones on the Disney Channel series Shake It Up (2010–2013).
According to her IMDb profile, Thorne has also starred in Famous In Love (2017-18), I Still See You (2018), and The Babysitter: Killer Queen (2020).
In 2019, Thorne made her directorial debut with the adult film Her & Him.
Related Topics