People are asking who are Karrin Taylor Robson's husband and family? The Arizona gubernatorial candidate endorsed by incumbent Doug Doucey is married to her second husband, real estate magnate Ed Robson. Let's find out more.
As of 1am on Wednesday (August 3), Trump-backed Kari Lake was leading the GOP candidacy for governor of Arizona with 45.5 to 45.1 percentage points, with Taylor Robson close behind, Newsweek reports.
As the race comes to a head, voters are curious about Karrin Robson's personal life including her husband Ed and whether they have children.
Here's what you need to know.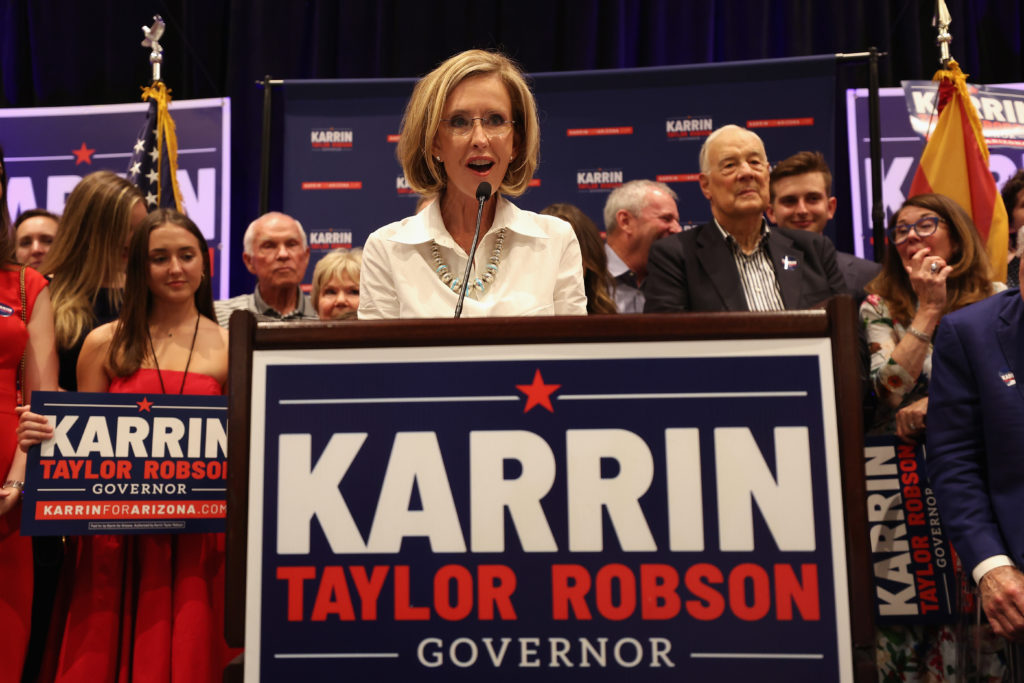 Who is AZ GOP gov candidate Taylor Robson?
In July 2022, Arizona governor Doug Doucey announced his endorsement of Robson's candidacy: "Karrin is the real deal: pro-life, pro-gun, and pro-wall – and she'll stand up to Joe Biden and the radical left."
A native Arizonan and "lifelong Republican," Karrin Taylor Robson was born Karrin Margaret Kunasek and raised in Mesa, where her family had long-standing ties to local politics. Her father, Carl Kunasek, is a retired politician who used to serve as president of the Arizona State Senate and on the Arizona Corporation Commission.
After graduating with a BA in political science from Arizona State University, Karrin Robson got her start in politics working in the Reagan White House. In 1990 she left to study law and, for the next 24 years, her career blended real estate and politics. The focus of her law practice was land use, zoning laws and real estate. In 2020, Robson described the intricacies of land use policies as "60 per cent politics and 40 per cent law."
After AZ US senator John McCain's death in 2018, Karrin Robson was floated as a possible replacement to serve out the rest of his term, although the role went to Martha McSally in the end.
In July 2021, Karrin Robson resigned from the Board of Regents, which governs the state's public universities, and announced her campaign for the Republican nomination for Arizona governor.
Robson's gubernatorial platform centres on staple Republican issues such as increased border control, gun ownership and pro-life policies. In May 2022, before the historic overruling of Roe v Wade by the Senate, Robson told KTAR News she wanted Arizona to be one of the "most anti-abortion states in the country".
Who is Karrin Robson's hudband, AZ real estate mogul Ed Robson?
In 2017, Karrin Robson married her second husband, Ed Robson, who is a beloved figure in Arizona real estate. He hails from Massachusetts but "went west" for college to Colorado after finding success as a high-school hockey star.
Born in 1930, Robson is now aged 92, meaning there is a 34-year age gap between him and his wife, Karrin Taylor Robson. Despite his advanced age, however, Robson told AZ Central in 2017: "I love life and love what I'm doing. Being part of the team and making things work – that's what brings me to the office every day."
With a real estate career spanning more than six decades, Robson started his first active adult community in 1972, in Sun Lake, Arizona. From there, the business grew to include a number of communities across Arizona and Texas overseen by Ed Robson himself.
Robson is also involved in many philanthropic ventures, such as opening a Robson family branch of the Boys and Girls Club of Metro Phoenix and contributing millions to his alma mater, Colorado College.
A former Colorado College hockey star, his donations helped the school open its own on-campus indoor hockey practice facility, which they named the Ed Robson Arena. In 2021, Robson was spotted enjoying a game of college hockey there with former Alaska governor Sarah Palin.
Meet the GOP candidate's children and family
Ed Robson is Karrin's second husband following her long-time marriage to first husband, Gene Taylor. Public details about Taylor, who purposely avoided the political spotlight, are scarce, but the couple have four children together.
On her Twitter profile, where she often shares snaps of her kids, Karrin Robson describes herself as a "Wife, Mother of Four, Businesswoman, Passionate Education Advocate, Proud Arizonan."
Photos depict Robson and her four children, whom she raised as a single mom after the divorce, hiking in nature and celebrating milestones such as the launch of her daughter's business.
In October 2020, Robson's eldest daughter, Alex, launched her podcast, Balanced Beautiful Body, which highlights stories from women entrepreneurs, community builders, moms and wives who can inspire her audience.
Karrin Robson faces off against Kari Lake in gubernatorial race
According to the Wall Street Journal's live updates, Pence-backed Karrin Taylor Robson and Trump-endorsed Kari Lake are neck and neck for the Republican nomination for Arizona governor.
Where the two candidates seem to differ is on the issue of whether election fraud took place in the 2020 presidential race. Kari Lake continues to support Trump's claim the election was "stolen from him" and has promised to decertify the results if she wins.
Robson, on the other hand, has kept mum on whether she would have certified the election but insisted to CNN the wrong president is in the White House. When asked by Brianna Keilar whether she accepts the 2020 results, Robson answered cryptically: "We have the wrong guy in the White House," because, she believes the election "at a minimum was not fair."
Related Topics