American YouTuber, mental health advocate and artist ArtVanGrow – first name Amanda – shared a series of videos on her Instagram story recently in which she's involved in a row with a Home Depot employee.
In subsequent videos, she narrates the incident to her followers while sitting in her car.
Among other things, people have been calling her Home Depot Karen as a result of the uploads.
Here's what we know about the incident, including what might have happened to the Home Depot employees involved in it, and who ArtVanGrow is.
Who is ArtVanGrow and why are people calling her Home Depot girl?
ArtVanGrow is the social media brand of New York influencer Amanda. She calls herself an "influencer-traveler-creative" on a "self-growth journey".
During the weekend, she uploaded a series of videos to her Instagram stories. In the videos, which have since made it to Reddit and Twitter, she has a heated exchange with two Home Depot employees she identifies as Hansen and Jamie.
One of the employees asks her repeatedly to leave the store. She tells him to "give me my thousands of dollars back" before insisting that he will be "getting fired, fired, fired!" for his actions.
A series of videos follow in which ArtVanGrow, sitting in her car, narrates the incident. She expresses her frustrations at not being given a discount at the Home Depot, and then says repeatedly that the employee in question should "go back to [his] country".
Watch the video here – but viewers are warned over strong language.
Reddit users discuss ArtVanGrow's rant and brand her 'Home Depot Karen'
"Classic Karen behaviour!" writes one Reddit user in a forum on ArtVanGrow's Instagram upload.
A post on the topic has picked up 15.1K upvotes since the OP uploaded it two days ago. However, it doesn't appear to have taken long for the post's moderator to disable its comments section.
Several commenters have used the word Karen to describe her. For anyone not versed in contemporary Internet discourse, "Karen" is a slang term for "an obnoxious, angry, entitled, and often racist middle-aged white woman who uses her privilege to get her way or police other people's behaviours" – so reads Dictionary's definition of the word.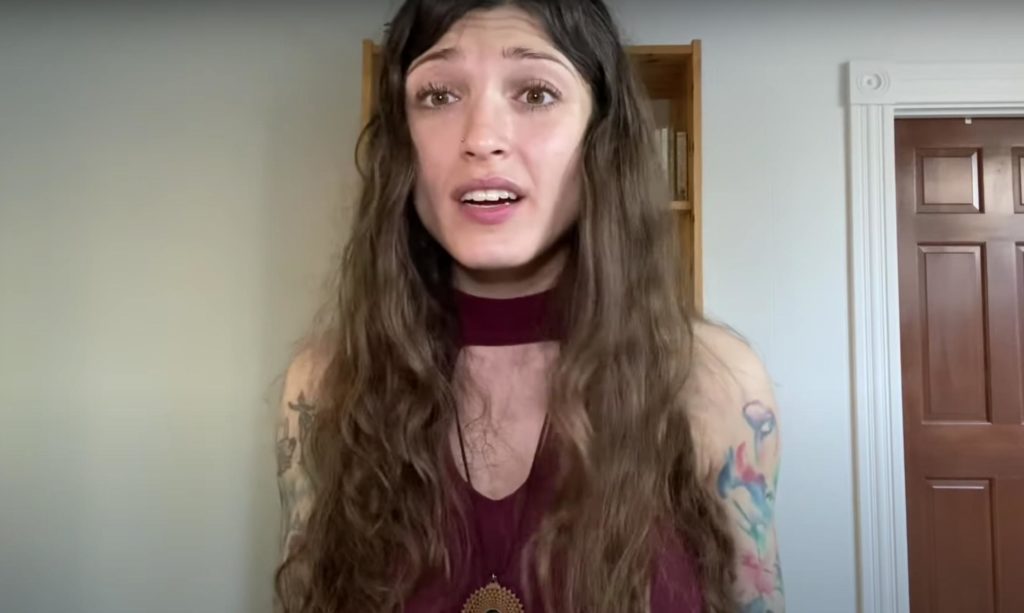 Who is she?
ArtVanGrow is a social media influencer, artist, digital nomad, and YouTuber. She grew up in New York City and earned a bachelor of science degree from West Virginia University.
In 2017, however, she "decided to reinvent [her] life". According to her ArtVanGrow website, she sold everything to her name, "built a tiny house, and hit the road". 
"I was on a mission to learn about myself, others, and the world around me while immersing myself in nature, culture, and human experiences."
She has 14.6K followers on TikTok and 5.48K subscribers on her Art Van Grow YouTube channel. On the latter, she posts DIY videos relating to small shelters and travelling. However, following the backlash she received for her Home Depot videos, she appears to have shut down her primary Instagram account.
ArtVanGrow invites her followers to contribute financially to her lifestyle via Patreon. Her most generous patrons receive "1:1 personalised conscious calls creating a safe space for you to speak your truth, share your stories, and ask for guidance during your self-love journey".
What happened to the Home Depot employees in her video?
ArtVanGrow identifies the two Home Depot employees in her video as Jamie and Hansen.
On Monday (1 August 2022), a Reddit user posted a "potential update" from Home Depot's TikTok to the r/HomeDepot subreddit.
Asked to "do the right thing when you act on last night's controversy please", Home Depot apparently replied that the "associates" in question "were not fired, and they never should have been put in that position".
This runs contrary to Amanda's version of events. Contributors to the Art Van Grow webpage on YouTube Fandom write that she posted to her Facebook followers that the two Home Depot employees in the video were transferred to another state and asked to pay her $1,000. She appears to have posted something similar to her Instagram story.
Neither has been confirmed by the store itself.
The Focus has approached Home Depot for a comment on the incident.
Related Topics