A consumer awareness TikTok channel and website called That Water Bead Lady is taking the online parenting community by storm thanks to its claims about a potentially toxic toy.
Run by mom of two Ashley Haugen, the site is on a mission to teach parents and healthcare providers about the dangers of water beads, which, Haugen claims, should only be "for display, not play."
Water beads are small balls of super-absorbent gel that expand up to 200 times their initial size when placed in water. Originally used by florists and in agriculture, a number of brands of brightly colored water beads are now sold as children's toys.
That Water Bead Lady is now making waves online as concerned parents try to find out more about the product. What is a water bead injury and why would water beads be toxic? And what happened to Kipley, the daughter of Ashley Haugen, aka That Water Bead Lady?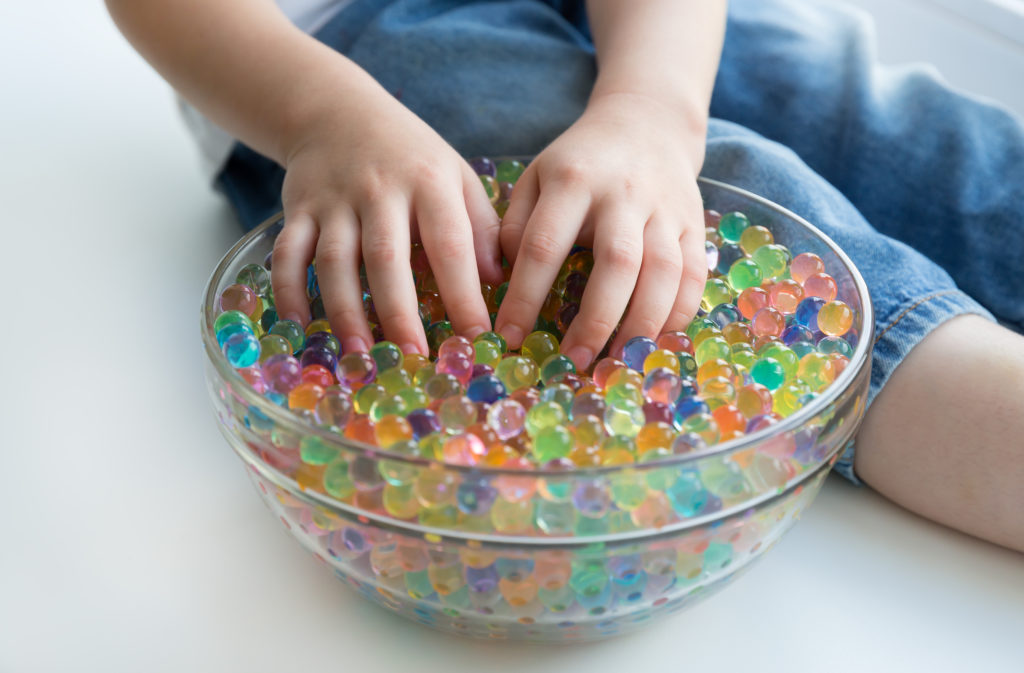 That Water Bead Lady shares her story
Ashley Haugen, aka That Water Bead Lady, began her campaign on the toxic potential of water beads after her daughter Kipley suffered an injury at just ten months old.
According to a testimonial on her website, Haugen and her husband Jonathan bought water beads for their eldest daughter, Abigail's, sixth birthday in 2017 after carefully researching the product. "The claims we read were disarming," writes Haugen, who claims she found no online warning about water beads' potential dangers beyond being a choking hazard.
Despite diligently supervising Abigail and forbidding their baby, Kipley, to play with the beads, Haugen said she began to notice changes in Kipley's behavior. She said these escalated until the baby began "projectile vomiting" and the family rushed to the emergency room.
After exhaustive testing and scanning, doctors couldn't find what was wrong so proposed exploratory surgery. "When he updated us on her condition, he showed us a picture of the material he removed from her small intestine," Haugen writes. "Jonathan and I looked at the picture and immediately realized the surgeon had just found pieces of the birthday gift we got for Abigail – water beads."
Post-surgery, however, the family noticed a downturn in baby Kipley's behavior, which was confirmed by a developmental pediatrician. "The doctor informed us of her diagnoses: toxic brain encephalopathy caused by acrylamide monomer poisoning , expressive and receptive language delay, gait abnormality, muscle weakness, [and being] at risk of autism."
The Haugen family claims Kipley's diagnosis is the result of their daughter ingesting water beads, which led to Ashley launching That Water Bead Lady to raise awareness of the toy's toxic potential.
The site, created in 2022, offers educational material for parents and healthcare providers and spotlights another family's ordeal.
That Water Bead Lady has undertaken research into the chemical composition of water beads, why she thinks water beads can be toxic, what symptoms to look out for, and what to do in case of ingestion.
Haugen has amassed 63,000 followers and 3.3 million likes on TikTok, and 1,000 likes on Facebook.
What is water bead injury?
As per the Poison Control website, water beads are manufactured from super-absorbent polymers made from petroleum products such as polyacrylate and other acrylics. Ashley says the products label these 'ingredients' as non-toxic but warn the beads can cause asphyxiation or intestinal obstruction when ingested because they can keep expanding once inside the body.
According to Haugen's site, water bead injury is what happens when a child swallows these toys or is dangerously exposed to them – for example by inserting them in the nose, ear or through excessive skin exposure.
Ashley says symptoms of water bead injury can include coughing, gagging, fast or labored breathing, vomiting, throat, chest or abdominal pain, bloating, discomfort, and anxiousness. Additionally, That Water Bead Lady warns of symptoms such as face rash, sleep disturbance and changes in temperament, which she says happened in her daughter's case.
An article published by the American Academy of Pediatrics (AAP) adds the dangers of water beads are compounded by the fact they're not always visible on X-Rays.
"These particular objects can grow bigger as they pass through the intestines, ultimately paving the way for obstruction," pediatric gastroenterologist Jenifer Lightdale told the publication.
"Last year, a two-year-old girl swallowed about 100 small water beads. The beads expanded to the size of marbles and it took nine hours for her to pass them in the emergency department," the article warns. Other children suffered hearing damage or loss after inserting water beads in their ear.
That Water Bead Lady maintains water beads are toxic
Despite echoing a growing concern for the dangers of water beads, the AAP, just like the Poison Control website, labels them non-toxic.
That Water Bead Lady, however, disputes that claim. Haugen argues the "view that non-toxic equals safe needs to change for the health, safety, and well-being of children." She claims the term "non-toxic" is "shockingly unregulated" in the US.
The Federal Hazardous Substance Act gives the Consumer Product Safety Commission authority to regulate what constitutes hazardous or toxic materials for children to use, although the guidelines are often far from clear-cut.
Haugen claims: "Polyacrylamide is considered non-toxic; however, it is made from the polymerization of neurotoxic acrylamide. Depending on the polymerization process, acrylamide may still be present in the final product."
Acrylamide is a chemical widely used in industries including construction, textiles, cosmetics, plastic and agriculture. It can appear in consumer products such as food packaging and cigarette smoke and occurs naturally in starchy foods such as French fries and toast. Acrylamide has been labeled a "probably human carcinogen" by the International Agency for Research on Cancer, although tests were only conducted on animals.
As per the American Cancer Society, the Food and Drug Administration regulates acrylamide levels in materials that come into contact with food, but not in food products. The Environmental Protection Agency has set an acceptable level of acrylamide in drinking water, while the Occupational Safety and Health Administration monitors levels of exposure in the workplace.
Related Topics