As news of the death of British fashion designer Dame Vivienne Westwood circulates, we look at how the punk icon influenced anime and manga series NANA.
Vivienne Westwood was more than just a designer, her creations inspired pop culture and you won't find a better example of that than NANA.
NANA is a manga success story turned anime in which its characters innovatively express their inner selves, feelings and conflicts.
If you aren't a fan of anime or manga, you'd be forgiven for not knowing about Westwood's influence on the culture. But, if you want to see how a British designer inspired generations of fans thanks to her punk style, read on!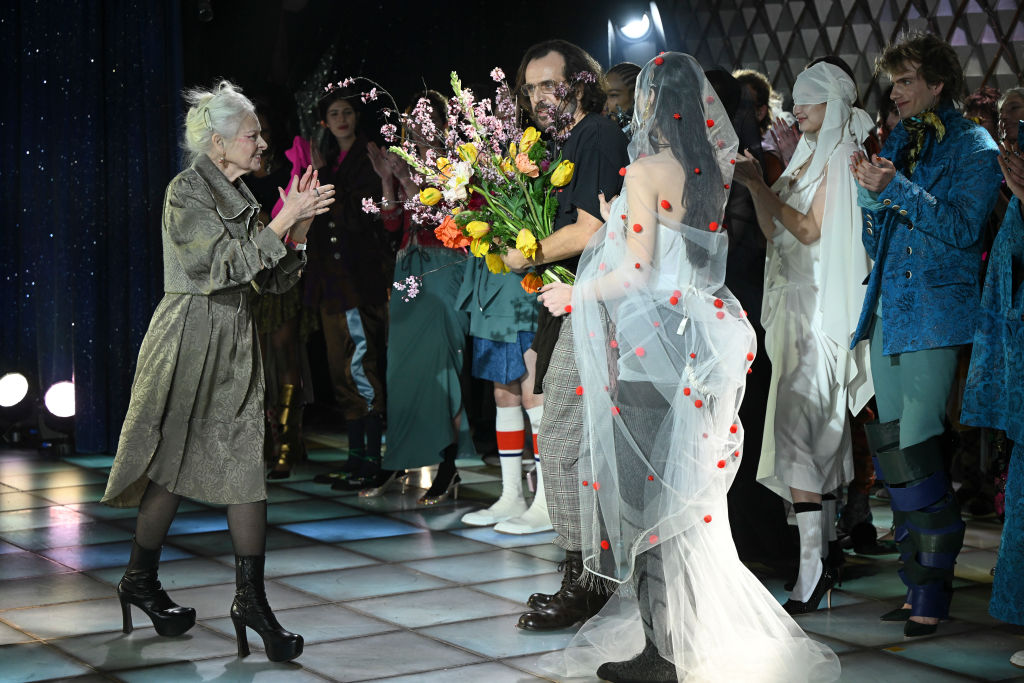 What is NANA?
NANA was a manga series created by Ai Yazawa that was released in early 2000. It was later turned into an anime series.
NANA follows the lives of two 20-year-old girls – Nana Osaki and Nana Komatsu. Their lives become entwined as if they are destined to become friends.
What starts as a chance encounter on a train in Tokyo leads to them become friends as they set off on a mission to change their lives. The girls end up sharing an apartment and become heavily involved in each other's hopes and dreams. Osaki sets out on the long road to punk rock stardom, while Komatsu tries to find out who she is without relying on romantic validation.
The series discusses intimacy, trauma, self-determination and punk-rock identity. They are topics that dive deep into the human experience and do so through the characters' fashion statements.
NANA an ode to punk style and Vivienne Westwood
I can hear you asking how Vivienne Westwood could be a part of NANA? Well, as it turns out the fashion in the show is heavily inspired by Westwood's designs, especially her punk style.
Vivienne's punk style was hugely popular among young people in Japan in the 1990s and 2000s, which is why it features heavily in the series.
Ai Yazawa, the creator of NANA, was a fashion school dropout and choose to pursue illustration instead. Throughout her work she tells stories through fashion and infuses her fashion background into her work.
The entire series is like an open love letter to the queen of punk, Vivienne Westwood. For example, NANA has a love of pleated tartan patterns and blazers, which is a direct reference to Vivienne's collection "Anglomania", especially the circa 1993-1994 collections.
The character of Nana Osaki also frequently sports corset tops inspired by Westwood's Mini-Crini designs and Victorian-constructed mini skirts inspired by Westwood's 1987 "Harris Tweed" collection.
Vivienne Westwood's designs used as punk-style armor in Nana
Vivienne Westwood's influence on NANA is clear to see but she doesn't just influence the fashion of the series' main characters, her designs are part of their psychology.
Nana Osaki is iconic for her alluring punk image, which is used to complement her reserved and independent self. Osaki's constant use of Vivienne Westwood pieces, such as pleated tartan skirts or corset tops, reflects her intimate ties to the punk community.
Most notably, Osaki is known for Westwood's "armor" ring design, which she is seen wearing in almost every chapter of the manga and episode of the anime series. Some fans speculate the "armor" ring is a security blanket Osaki uses to protect herself from the world's cruelties.
Osaki frequently dons chains and leather as another example of her using fashion as armor. It's her way of protecting herself from being hurt and it becomes a shield to hide her vulnerability. 
Osaki's style is iconic and challenges the stereotype that manga heroines must have more traditionally feminine exteriors or personalities. It's this impact on society and culture that is Vivienne Westwood's legacy.
Where to buy the NANA x Vivienne Westwood lighter, orb necklace and more
If you're a fan of manga and anime and want to take a leaf out of Nana Osaki's style book, why not start with Vivienne Westwood's orb necklace?
The range has become hugely popular since Osaki wore it in the 1990s and 2000s so, if you want to become like Osaki and use the ring as armor, here's where you find them.
The best place to get your hands on an orb necklace or armor ring is on the fashion designer's site. Here you'll find her most iconic pieces such as the armor ring or lighter (both unavailable at time of going to press) or her hugely popular orb necklace.
If jewelry isn't your thing, why not have a look at Westwood's other signature collections, such as her rocking horse shoes? If clothes are more your scene, you can get your hands on some of her iconic designs such as tartan blazers or perhaps a recent design that combines two of her iconic looks – the corset and a tartan skirt? Again, check the website to see whether the items are currently in stock.