A video showing 4th of July fireworks destroy a family's front yard and driveway is going viral on Twitter for all the right reasons. Safety first, everybody!
The clip is stamped with the logo of home security company SimpliSafe and appears to be caught by one of its doorbell cameras. As soon as users noticed that detail, some started to wonder whether the fireworks video was part of a SimpliSafe viral marketing campaign.
Or could it be legit?
Let's unpack this.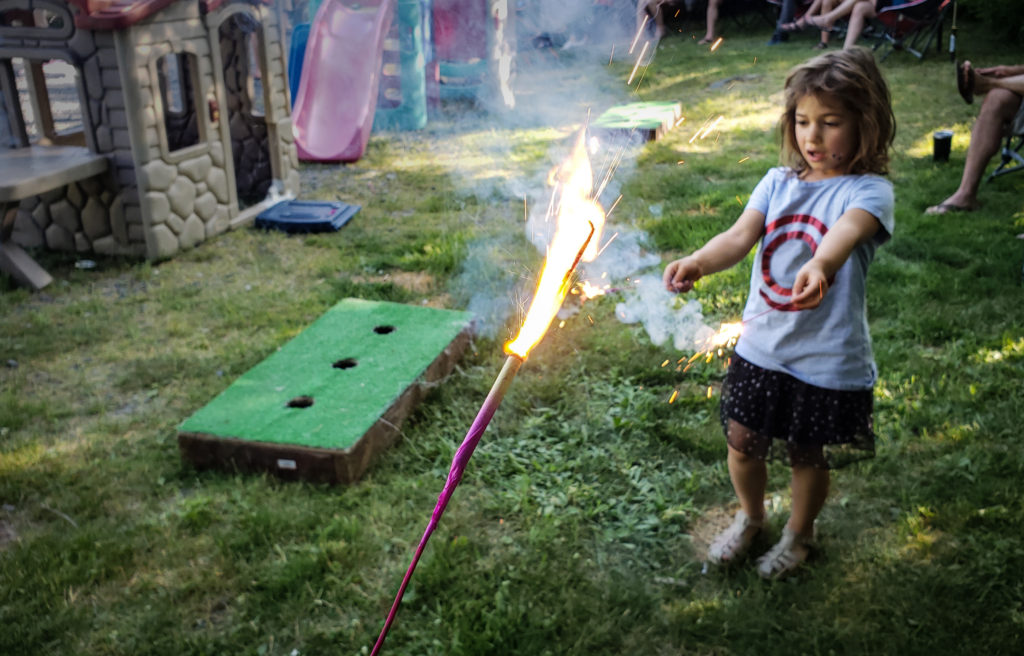 Fireworks video caught on SimpliSafe doorbell cam goes viral for all the right reasons
A viral video of a 4th of July gone wrong is spreading like wildfire on Twitter, teaching a serious lesson about fireworks safety. The video, stamped with the SimpliSafe logo, was first shared by Twitter user Cody @new_orleansjazz and has quickly gained more than 214K likes in just a few hours.
The video opens uneventfully on a family barbecuing in their front yard, seen from the perspective of what could be a doorbell camera. There are a few adults chatting, drinking beer, surrounded by small kids.
Someone lights some fireworks and jokingly yells "Run!" This is what film buffs call foreshadowing.
For the first few seconds, it looks as though nothing is going to happen. Then, suddenly, the audio and video erupt as the fireworks start to go off all over the yard. It looks like lighting them behind the van was a bad idea, but still doesn't seem that bad.
Seconds later the whole yard bursts into flames and people start running for their lives. It's every adult and child for themselves now in a mad dash from the cheerfully raging mayhem. Happy 4th of July!
They will definitely need a new van and RIP the lawn furniture.
Is SimpliSafe behind the viral fireworks video?
If you watched the video with your speakers on full volume, you'll have noticed two things: your dogs have left the room to hide shivering under your bed and the audio quality is flawless. Almost too flawless, considering the clip looks as though it was caught on a doorbell camera.
The video is also pretty crisp, even in the low light of evening. So, what's going on?
Before they noticed the fireworks, many users noticed the SimpliSafe logo in the video's top left corner, confirming the mayhem was likely filmed with a home security camera. But is it legit or could it be part of a viral marketing campaign?
So far, SimpliSafe hasn't claimed credit for the fireworks video on any of its social media channels. According to social media analysis site SocialBlade, its account hasn't gained a significant amount of new followers since the clip was first shared.
We've reached out to SimpliSafe and they have confirmed the video is not part of a marketing campaign.
Video reactions: Should have practised fireworks safety
The irony of a SimpliSafe logo stamped on a video showing utter fireworks mayhem wasn't lost on Twitter. Reactions ranged from wondering on the authenticity of the clip to worrying about the people in it – are they ok?
"Country music. CHECK. Children playing with explosives. CHECK. Completely irresponsible parents. CHECK. It must be America's birthday!" one Redditor commented after the video was shared on the platform, where it quickly gained 25.7K upvotes before getting deleted by its original poster.
Another user simply commented: "Haha damn that was crazy but not that baOHMYGOD," probably in real time while watching the video.
Over on Twitter, some users seem to think the people in the video assumed a calculated risk, but were bad at doing the math.
The SimpliSafe logo definitely did not escape people:
Are fireworks that dangerous?
As one user pointed out in response to the video – if the viral clip is real, the people in it may have put themselves and their home in real danger.
Some of the don'ts committed, according to the Consumer Product Safety Commission, include letting kids play with and ignite fireworks, lighting a few of them at once and standing too close as they start to fire, and using them close to flammable objects (such as the van and lawn furniture).
In 2021, the US recorded 11,500 emergency room-treated injuries from fireworks and nine deaths. The injuries are down from the 2020 spike of 15,600, when many public events were cancelled due to covid-19 and people celebrated at home.
Meanwhile, of the nine deaths, six were associated with firework misuse. The most common fireworks injuries are burns to the extremities (arms and legs), followed by the torso, head, face and eyes.
Related Topics