Sesame Place Philadelphia says the racism accusations lobbed against character Rosita this weekend were the result of a misunderstanding.
A Philly mother complained about racist behaviour via Instagram after one of the park's characters appeared to snub her two black daughters.
The mom, who identifies as Jodi on the social media platform, posted a video of the alleged incident. She claims her daughters were shunned by the character, while other kids, who were white, got hugs and high fives.
Sesame Place responded to the racism accusations surrounding Rosita by putting the incident down to a misunderstanding.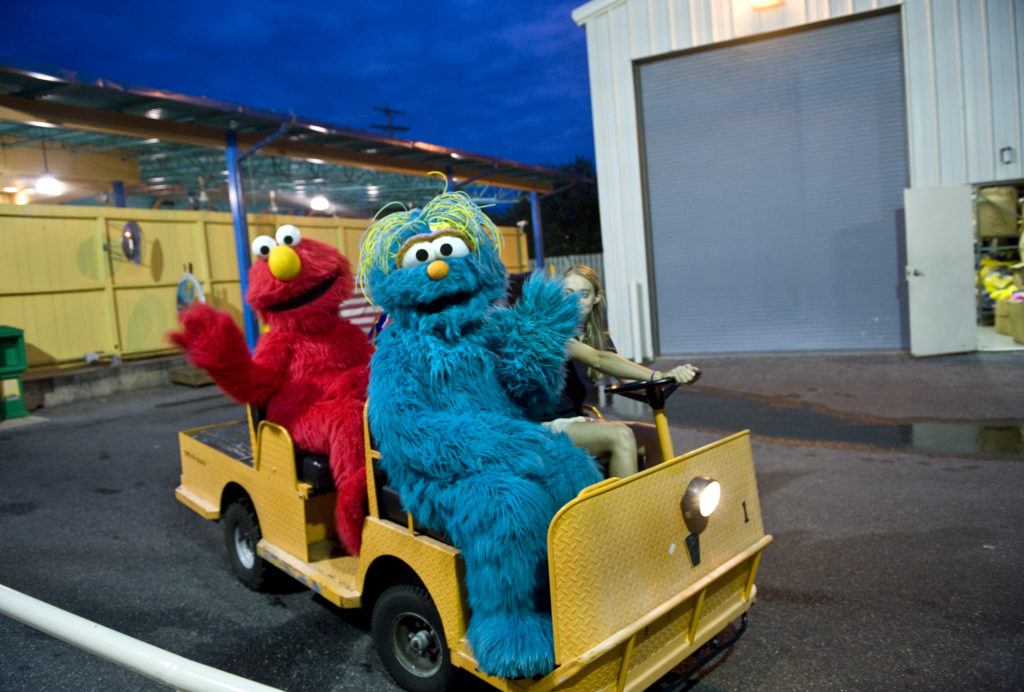 Sesame Place dubbed 'racist' online after controversial video
A mother spoke out on Instagram this weekend about what she considered to be racist behaviour coming from a Sesame Place character. The woman, who calls herself Jodi, took her daughters to Sesame Place in Philadelphia. According to some Twitter users, the family was celebrating their daughter, Paige's, fourth birthday.
As they watched the character parade, the two girls are seen waiting, arms outstretched to give the character Rosita a high five or a hug. Rosita greets a few kids and one adult woman before motioning "no" and skipping over Jodi's daughters.
The two little girls looked disappointed after Rosita's apparent snub. In the post comments, Jodi says Rosita "blatantly told our kids NO then proceeded to hug the little white girl next to us!". She explains she was "so mad I stopped the video.
Jodi then complained about the perceived mistreatment and says a supervisor "[looked] at me like I'm crazy" and "didn't know" who was in the Rosita costume at that time.
Sesame Place responds to 'racism' accusations about Rosita
Jodi's Instagram post quickly went viral, amassing more than 292,655 views since it was first posted. Many of the reactions seemed to side with Jodi's view of events, lobbing accusations of racism at Sesame Place and the character Rosita.
On Sunday, former Destiny's Child member Kelly Rowland joined the online outrage with a reaction video. "Had that been me… that whole parade would have been in flames," the singer said. "Like, are you serious? You're not going to speak to my child?"
Only hours after Rowland posted her reaction video, Sesame Place responded to the racism accusations surrounding Rosita's apparent dismissal of the two little black girls.
"Regarding the incident yesterday," the statement posted on Sesame Place's Instagram read, "the costumes our performers wear sometimes make it difficult to see at lower levels and sometimes our performers miss hug requests from guests."
The "no" gesture was a misunderstanding too, the park claims. What looks like the character Rosita motioning an emphatic "no" to Jodi's daughters is actually meant for someone else standing off-camera in the crowd behind them.
They explained that, according to the performer inside the Rosita costume, "the "no" hand gesture seen several times in the video was not directed to any specific person." Instead, it was meant as a response to "multiple requests from someone in the crowd who asked Rosita to hold their child for a photo which is not permitted."
"The Rosita performer did not intentionally ignore the girls and is devastated about the misunderstanding," they add.
Sesame Place says they have apologised to Jodi and her daughters and invited them back to the park for a special meet-and-greet with the characters. According to Jodi's Instagram story, she was also contacted via telephone and Instagram DMs by the park's management.
Twitter reacts by tanking theme park's reviews
Twitter's reaction to the incident – and to Sesame Place's apology – was overall negative. Many users felt that no amount of "damage control" could make it up to the two little girls.
The girls' mom, Jodi, thought the park's apology was "distasteful" and only added "insult to injury", according to her Instagram stories.
She also responded to the outpouring of support from the online community: "I really appreciate the love and support for the girls! I let them know that [so] many people have their backs!"
Meanwhile, some Twitter users decided to take matters into their own hands by leaving a slew of negative reviews for Sesame Place Philadelphia.
Sesame Place has confronted racism allegations in the past
Sesame Place Philadelphia, which opens its doors to millions of visitors each year, is no stranger to racism accusations. In August 2019, the Philadelphia Inquirer reports the park ejected a woman for launching into a curse-filled tirade against a Muslim visitor.
The outburst was captured on video and quickly went viral. The woman being targeted later told CBS3 she wanted to forgive her attacker.
Sesame Place responded by condemning the behaviour. "Our team deeply regrets that any park guest would have this experience in our park," their statement reads.
"It runs counter to everything we stand for. To be clear, the woman depicted in that video was not given tickets to return to the park." The emphasis in bold belongs to the original statement.
Related Topics