YouTube rapper and aspiring musician Robert Crimo III has been named a person of interest in the Highland Park, Illinois, shooting that turned Monday's 4th of July parade into a nightmare.
As of early Tuesday morning, authorities say they've brought the suspect into custody "without incident".
The 22-year-old suspect, who also goes by the stage name Awake the Rapper, sports distinctive face, neck and hand tattoos that have caught the public's imagination.
What could Robert Crimo III's tattoos mean? Let's look at the common meaning behind some of Awake the Rapper's now-infamous ink.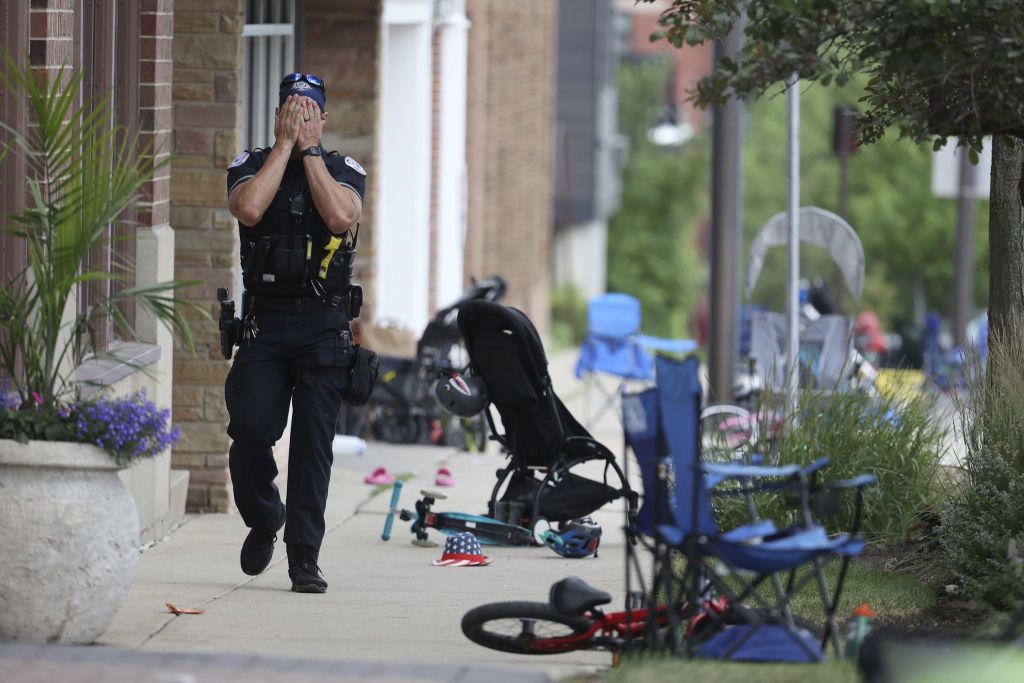 Who is Highland suspect Robert Crimo?
Neighbors and relatives describe Robert Crimo III, 22, as a quiet, lonely person who liked to keep to himself. His uncle, Paul Crimo, who has known Robert since he was born, told CNN: "There were no signs I saw that would make him do this."
He added his nephew had never shown signs of aggressive or violent behaviour. But, Paul Crimo noted, Robert is: "A quiet kid. He's usually on his own. He's a lonely, quiet person. He keeps everything to himself."
It's unclear whether Robert had a job and it seems he spent most of his time online, where he was trying to break out as a rapper. Under the stage name Awake the Rapper, Crimo released a number of music videos and tracks on popular music platforms.
His social media accounts have been deactivated or stripped of their content as Crimo is now part of an ongoing investigation. However, his previous activity showed he was into video games, professional wrestling and seemed to have a fascination with violent imagery.
Per the Daily Beast, his Twitter posts included a photo of himself at a Trump rally where he is apparently dressed like Waldo, although he also liked a Twitter video of President Biden. Crimo also allegedly shared music videos depicting gun violence and bloody imagery and was apparently active on a Discord server dedicated to death and another one, called SS, which was recently taken down.
What could Robert Crimo III's tattoos mean?
Authorities named Crimo a person of interest in their investigation into Monday's Highland Park shooting, putting out wanted signs with the 22-year-old's description. One of his most distinctive features are his face and neck tattoos, which have caught the public's imagination.
Robert Crimo III's tattoos include the number 47 on his temple, the word "Awake" written in cursive above the opposite eyebrow and what looks like five hash marks on his cheek. He also sported an elaborate tattoo of roses, vines and leaves on his neck and a knuckle tattoo on one hand that spelled out "LOVE".
The aspiring rapper seemed to have a preference for the numbers 4 and 47, along with the idea of being "awake", which coincides with his stage name, Awake the Rapper.
As some commenters have pointed out, Crimo's "Awake" tattoo could be connected to "awake, not woke", a response to so-called "woke ideology". A 2021 book entitled Awake, Not Woke: A Christian Response To The Cult Of Progressive Ideology helped popularise the term.
The tattoo also connects to the Highland Park suspect's stage name, Awake the Rapper, and to one of his songs. Are You Awake, released in October 2021, has lyrics that suggest Crimo might have felt he was acting out a plan he was powerless to stop.
"Like a sleepwalker, I am unable to stop and think," the lyrics read. "My actions will be valiant and my thought is unnecessary. I know what I have to do, I know what's in it, not only for me, but for everyone else."
Robert's face tattoo of five hash marks looks like some kind of tally, although it's unclear of what.
Meanwhile, the colourful tattoo of roses and leaves on Crimo's neck has been connected to a design sometimes known as the "rose in the fist", which has socialist associations. However, Crimo's tattoo doesn't seem to have the same design and follows a more common "floral" style, without the tell-tale fist or arrangement of symbols.
Number 47 tattoo is charged with meaning
Robert Crimo III's number 47 tattoo has been the focus of a lot of online curiosity – what could the number mean? There are several theories on the meaning of a number 47 tattoo, many of which seem to draw on occultism and esoteric philosophies:
A group calling itself the 47 Society has dedicated an entire website to what it calls "the quintessential random number of the universe". "In other other words," its FAQ page explains, "if you asked people to pick a number at random, more often than not, that number would be 47."
Other possible explanations say the number 47 could represent balance – the balance between the body's fourth and seventh chakras, which in Hindu tradition represent the heart and mind.
Another possible link between Robert Crimo III and the number 47 comes from his apparent passion for video games. Agent 47 is the main character in a popular stealth/shooter video game series called Hitman. A few photos from Crimo's now-deleted social media appear to show him dressed as Agent 47 in what some have called a "violent fantasy".
The eerie meaning of Crimo's 47 tattoo is compounded by the fact Monday's shooting happened on 4/7, the 4th of July. Disregarding the Highland Park attack, 4/7 is a date laden with significance for many Americans.
Updates on Highland Park shooting
According to the latest update from CNN, Highland Park mayor Nancy Rotering said she didn't know where the gun used in the attack came from. "I do know it was legally obtained," she said.
On Robert Crimo III, who has been taken into custody as a "person of interest", Rotering said: "I know him as somebody who was a cub scout when I was the cub scout leader." She did not believe Crimo was previously known to the police.
In her statement, the mayor wanted to draw the focus back to the fact there are "weapons of war on our streets, that people can legally obtain these and then take out dozens of people".
Related Topics