Google Doodle honours Oskar Sala on what would've been the German musician's 112th birthday. More than 20 countries around the world will have their usual Google home page redecorated in honour of the late musician, known for his work using an electronic instrument called a mixture-trautonium.
Oskar Sala was born in Greiz, Germany, on 18 July 1910. The early days of his career as a musician were interrupted by the rise of the Nazi Party in Germany and the subsequent outbreak of the Second World War.
With the far-right party banning many forms of music during its ascent to power, Sala's career was under threat. But a chance encounter with Germany's infamous minister of propaganda saw Sala and his mixture-trautonium carry on their experimental work.
Arts and creative industries take a hit in 1930s Germany
The Weimar period in Germany saw a wave of creative industries flourish, with art, music and film developing greatly in the 1920s and 1930s. Bauhaus influenced a number of areas of art and design, with advances in technology influencing the music and film of the decade; it was the 1920s that saw Fritz Lang's pioneering sci-fi Metropolis come to life as well.
But these creative developments were quickly brought to a halt.
For those who have seen Cabaret, you'll know all about the threat the creative industries faced in Germany throughout the 1930s. As Germany faced severe economic issues – first a result of their defeat in the First World War and then the Wall Street Crash of 1929 – the Nazi Party grew in popularity. It resulted in an attack on the liberal creative scene.
In 1933, the year Adolf Hitler was appointed chancellor of Germany, clubs and theatres were shut throughout the country. Experimental art, music and literature was derided – the British Library even reported on a 1937 exhibition of 'degenerate' art, which displayed works from what Joseph Goebbels labelled the "era of decay".
CELEBRITY: Drew Barrymore was among Studio 54's youngest ever attendees
Oskar Sala's work permitted to continue despite ban on electronic music
One of the areas under attack during this shift to the right was electronic music. Experimental in nature, the blossoming musical field was banned during the 1930s. But that didn't stop Oskar Sala as he continued to research and develop electronic instruments such as the trautonium.
After moving to Berlin at the age of 19, Oskar Sala met Friedrich Trautwein, who created the trautonium in 1930. The two would continue working together developing the trautonium. Sala even attended the University of Berlin in 1932 to study physics so he could develop the instrument further.
Although electronic music was banned, Trautwein managed to secure an audience with Germany's propaganda minister Joseph Goebbels. After Goebbels watched Sala perform on the trautonium, German authorities permitted the two musicians to continue their research, as reported by Al Jazeera.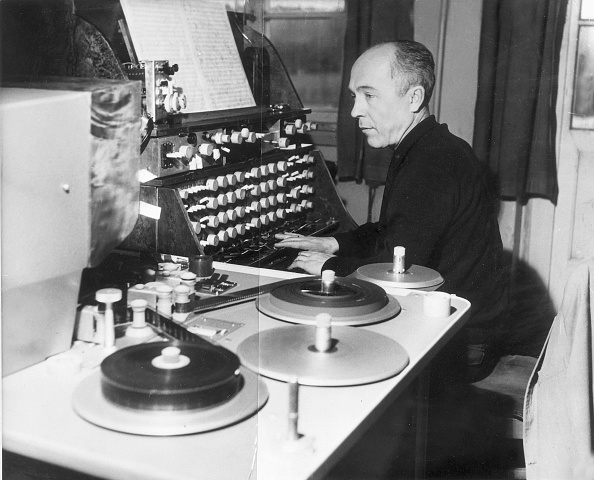 Oskar Sala called up to fight in WW2
Even after the outbreak of the Second World War, Oskar Sala continued his musical work. Google's Arts & Culture feature on Sala shows a picture of the musician performing in Vienna in April 1942 alongside Harald Genzmer.
But Sala wasn't exempt entirely from the war. Aged 34, around 1944, Okar Sala was called to serve on the Eastern Front for the German forces. However, he was injured and spent the majority of the campaign recovering.
In 1946, after the end of the war, Sala returned to his musical laboratory in Berlin.
TRENDING: Bruce Springsteen's wife proudly introduces first of their grandchildren
Sala turns to film following end of the war
By the late 1950s, Oskar Sala had stopped the majority of his public performances, opting to work in his studio instead. This would lead him to work as a composer for film scores in the following decade.
Some of Sala's most notable credits include Veit Harlan's Different From You And Me (1957), Rosemary (1959), and Alfred Hitchcock's The Birds (1963). Hitchcock and Sala became acquainted by a former classmate of Sala's who worked at Universal Studios. After hearing Hitchcock wished for synthetically produced bird sounds in the soundtrack, he was put in contact with Oskar Sala.
Sala would go on to work on more than 400 films throughout his career. He was recognised with the Filmband in Gold for his work and also honoured with the Merit Cross for a lifetime dedicated to music.
Oskar Sala died on 26 February 2002 in Berlin, aged 92.
Related Topics