Knitting is making a comeback among younger people, with research showing it helps with stress, anxiety and chronic pain.
What used to be an activity strictly associated with people over the age of 60 has become the new millennial DIY trend.
Young people are knitting
Charlie Millar from Yorkshire was taught to knit by her grandma and mum when she was little. Now she designs patterns and curates knitwear inspiration for The Knit Edit; her Instagram account with almost 24,000 followers.
However, this isn't your grandmother's knitting.
With the help of social media, knitting has become accessible and timely to younger generations. Easy-to-follow YouTube tutorials and 'knitting influencers' are leading this movement.
Designers, influencers and creative entrepreneurs are publishing hand-made patterns on their social media channels, showcasing and marketing their knitwear for other people to replicate and get inspiration from.
These patterns feature garments inspired by today's fashion trends that make it hard to justify buying similar knitwear in stores. They feature a wide variety of yarn types and comfortable fits.
Charlie has sold many copies of the knitting pattern for her popular 'The Saturn Jumper' during lock-down – a cropped and colourful sweater that she designed and crafted herself. After receiving a lot of attraction online, Charlie released the instructions on how her followers could replicate it at home.
"It's such a low buy-in, all you need are some needles and some yarn and you can literally teach yourself everything from YouTube now. You don't need any fancy materials or equipment. It's literally the ultimate low-fi crafting", says Charlie about young people knitting.
Other craft forms, such as crocheting, sewing and embroidery, have also been modernised and repurposed to fit younger people, largely with the help of platforms such as TikTok.
For example, TikTok saw a viral trend of fans recreating Harry Styles' rainbow JW Anderson cardigan, which inspired the brand to release official knitting and crocheting patterns for the cardigan.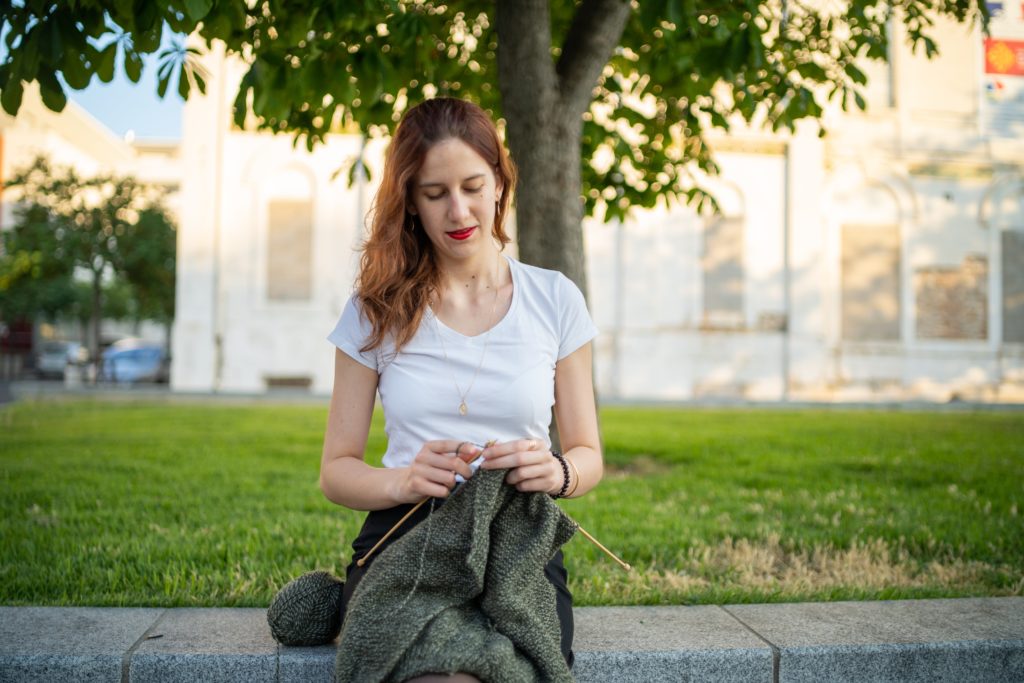 Why are young people knitting?
According to Charlie, young people have started to knit because they are tired of fast fashion.
"I think young people want to have more of a connection with their clothes and to consume with a conscience. They want something really special and sustainable."
She also finds knitting to be calming and stress-relieving.
"Knitting allows me to be mindful and focus on one specific task and take a break when everything else is hectic and stressful."
There is real evidence emphasising these therapeutic qualities of knitting.
According to research published in the British Journal of Occupational Therapy, surveying over 3,500 knitters worldwide, "knitting has significant psychological and social benefits, which can contribute to wellbeing and quality of life."
Business Insider reported that knitting can distract from "chronic pain, lower blood pressure, reduce depression and anxiety, and even slow the onset of dementia."
As knitting is both process and product-oriented, knitters benefit from both its repetitive nature and the satisfaction felt when completing the project. The repetitive nature of knitting reduces stress and the result is a finished, oftentimes wearable product.
As Charlie highlights: "Knitting is a really rewarding creative outlet because you can make things for yourself and get the satisfaction that comes when you say "I made it myself"!"
Explosion of sales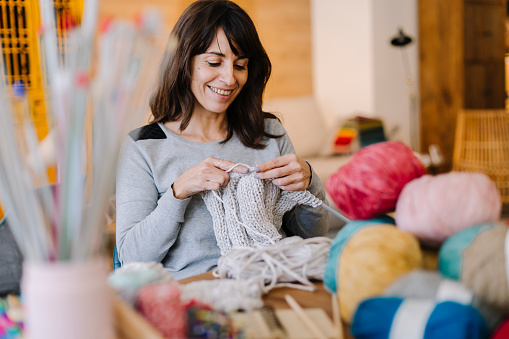 Knitting has been particularly popular during lock-down, as people have had lots of time at home to learn and/or start a new project.
Tellingly, there has been an exponential increase in the sale of yarn after covid-19 lock-down measures were implemented across the world. This can also reflect consumers' response to being scared and confined to the home.
We Are Knitters, an online, Madrid-based seller of sustainable knitting supplies, has seen a spike of 750 per cent in its sale of beginner knit-kits – with their chunky yarn, needles and simple patterns – across Europe and the US in recent months.
Generally, the company's consistent 10 percent annual sales growth increased to 235 per cent in March globally. Since then, We Are Knitters have recruited more suppliers for their Peruvian wool to meet the increase in demand that is draining warehouses in Munich, Germany and Delaware, US.
However, in a time of unprecedented demand for yarn and restrictions on the global production chain, the depletion of yarn supplies has become an issue for consumers and producers worldwide.
What better time to take up knitting?
Charlie Millar can be found at @TheKnitEdit on Instagram.