The passing of Nathan Jonas "Joey" Jordison, former Slipknot drummer and guitarist for Murderdolls, hit headlines yesterday. Now, people are curious about the meaning of his and his bandmates' masks. So, what was behind Joey Jordison's kabuki-inspired mask, and why do Slipknot wear masks at all?
Joey Jordison got his kabuki mask idea from his mom's Halloween costume
Slipknot drummer Joey Jordison spent nine years wearing a Japanese kabuki mask when performing with the band.
For the latter part of his time with the band, he modified it by painting on black and red markings. Slipknot's band members periodically upgraded and updated their masks, although usually this involved tweaks rather than overhalls.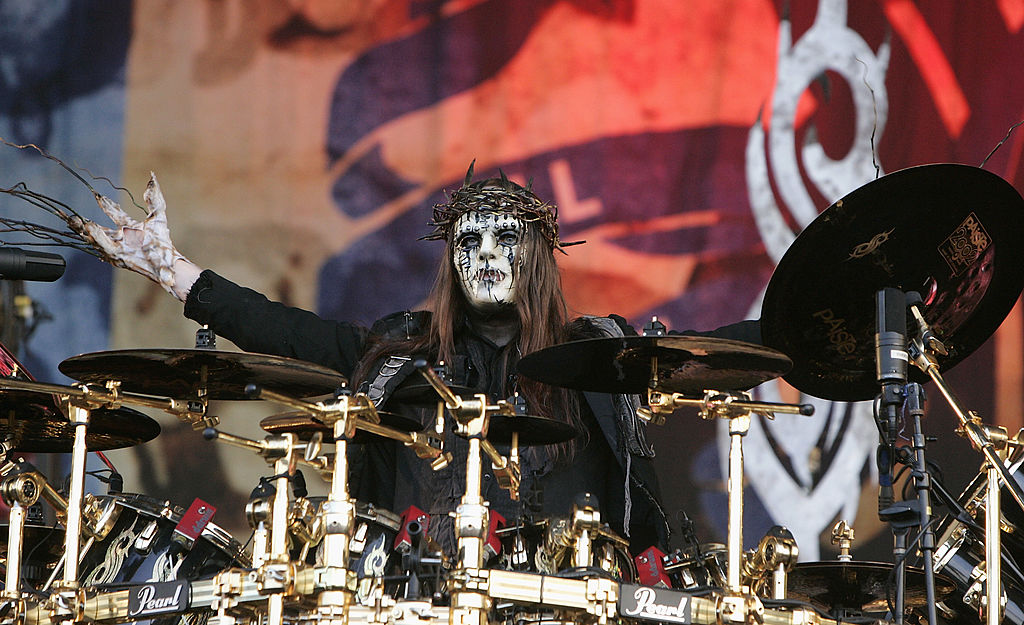 He allegedly got the idea when, as a child in the mid-1980s, he returned home from school on Halloween to find his mother wearing one, plus a robe – it terrified him.
"I came home from school and my mother popped around the corner with that mask on and a long robe and scared the living f*** out of me. It's always stuck with me", he told Revolver in 2018. "So I had to use that for my mask."
What is a kabuki mask?
Kabuki is a classical form of Japanese dance-drama. It features often glamorous costumes and elaborate makeup.
UNESCO proclaimed Kabuki theatre an intangible heritage possessing outstanding universal value. Three years later, it was added to the Representative List of the Intangible Cultural Heritage of Humanity.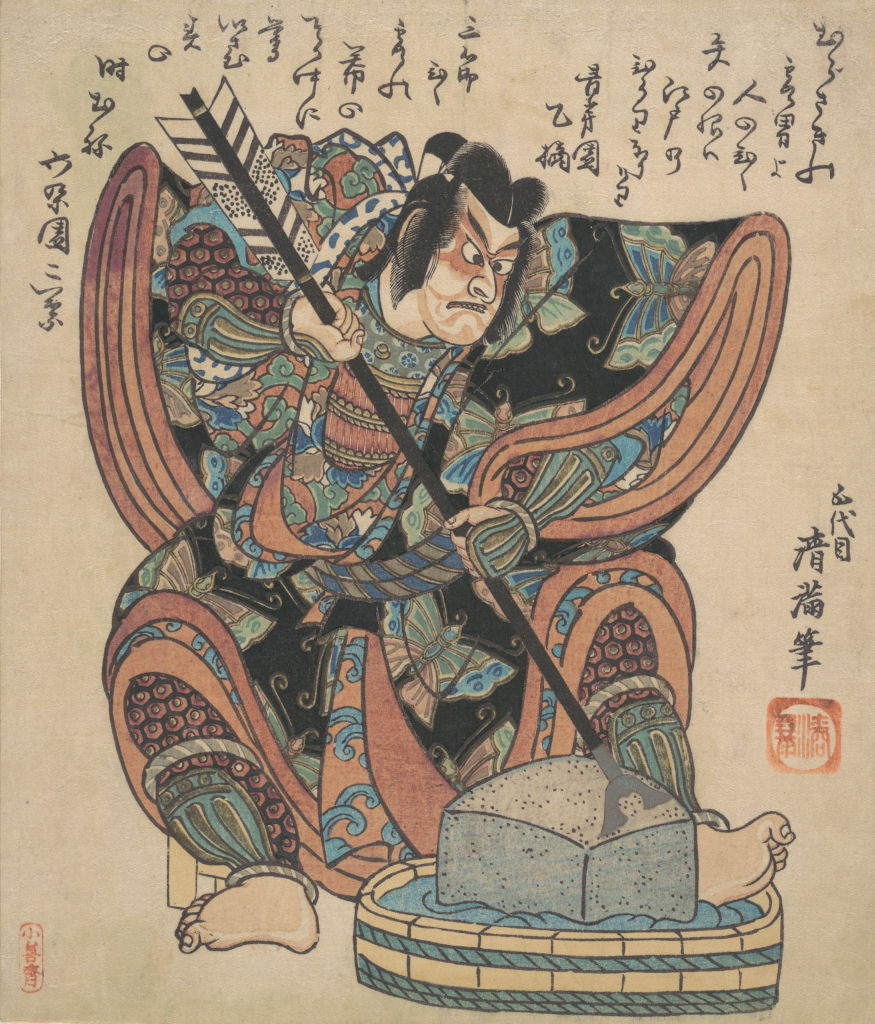 Such is the makeup of kabuki performers that their faces can sometimes resemble masks. Artists use rice powder to create a white base, while kumadori (makeup) enhances and exaggerates facial lines. The result can be quite dramatic, and even have a supernatural effect.
Why do the members of Slipknot wear masks?
Another of Slipknot's former members, Anders Colsefni, told Revolver, "The masks came into the picture when I was helping Shawn move from one house to another." 
"We were in the basement and he picked up the original clown mask. He used to like to hang it on the front of his drum set when Heads on the Wall played shows. He put it on and I went, 'Dude, that looks crazy', so he wore it to the next practice."
People have drawn comparisons between, on the one hand, Slipknot's penchant for eerie masks and jumpsuits, and on the other, the aesthetic of experimental rock band Mr. Bungle (below).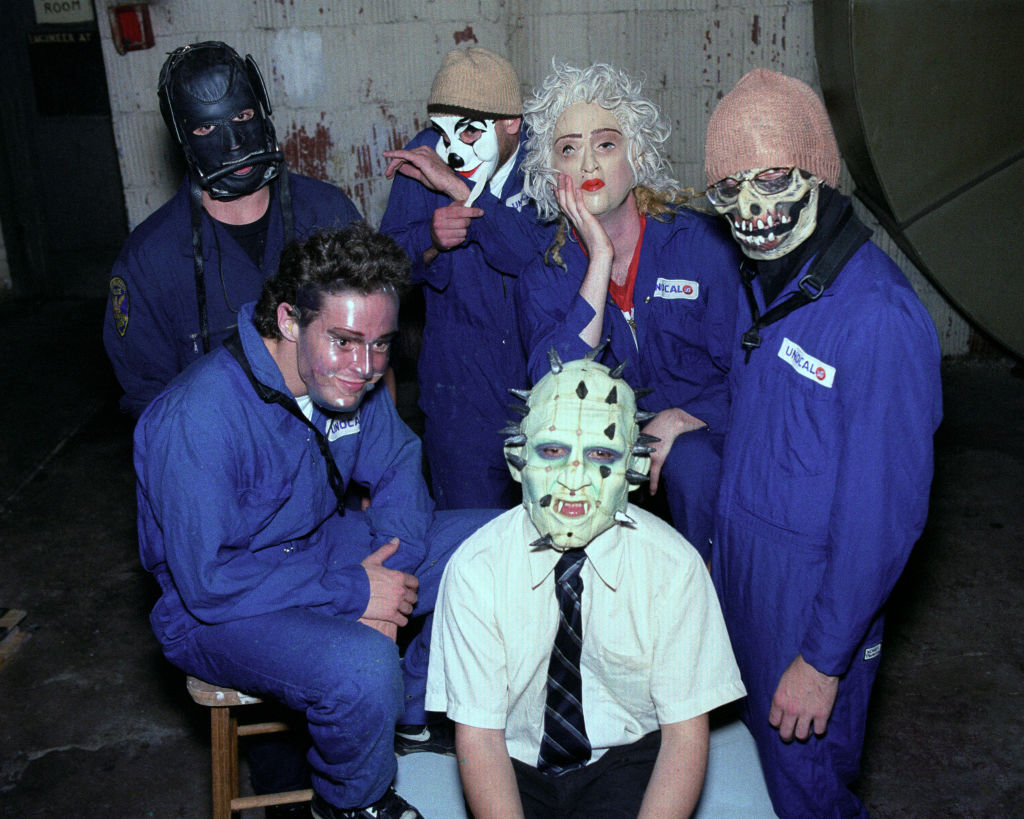 However, several commenters on a Reddit post about the question of influence assert that the music is far from the same. And, they say, Mr. Bungle's members only occasionally wore masks and jumpsuits. It was not their trademark, in the way that it became Slipknot's.
What mask does Jay Weinberg wear?
Following Joey Jordison's departure from the band in 2013, Jay Weinberg became Slipknot's main drummer.
And, because the band's custom is for new members to have new masks, Weinberg did not inherit Joey Jordison's kabuki mask.
Jay Weinberg at first wore a burlap mask – as in, made form burlap sacking. In 2019, he moved on to what the band's Fandom page describes as a "tribal" mask (below).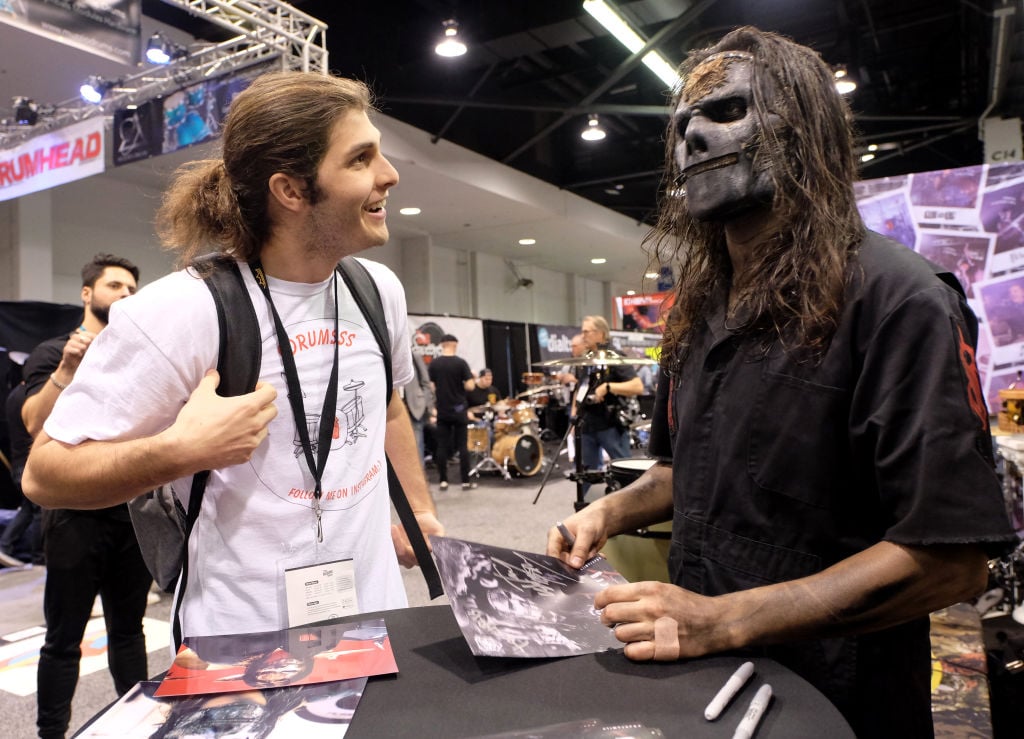 On having to wear a mask, Weinberg told The Metal Circus in 2020, "It's not fun, it's not enjoyable, it's not any of those things, but it is necessary".
"You're working against elements like heat, humidity, discomfort, pain, all of that, it's all part of it. So I don't mind it, I've just learned to accept it."