Twitter user @KeatonPatti shared what they jokingly claimed were real ads from the Truth Social networking website, featuring Mike Lindell's My Straw, Frank Log's Vax-Dar, flavorless Patriot Powder and Corn 2, "the new conservative vegetable."
The Twitter post has been liked more than 70K times and generated quite a buzz.
And some users appear to have believed some of the ads purportedly appearing on Truth Social – that is, until they didn't. Most people seem to have seen through the veil of satire.
Is the My Straw a real product from MyPillow founder Mike Lindell? Is Patriot Powder really "GUARANTEED to make you more patriotic?"
My Straw from Mike Lindell – 'available in blue'
"Works on Most Drinks!" chimes the fake ad for My Straw, a made-up product claiming to be the latest in Mike Lindell's catalogue.
"Tired of WOKE libs making you use PAPER straws? Then you need the My Straw from Mike Lindell, made with 50% MORE plastic so you can easily drink up those liberal tears!"
The ad adds the straws are "available in blue" and "work on most drinks." No, the product is not real. 
If you go to the link contained in the ad – mypillow.com/products/mystraw – you'll get a message saying, "Sorry, that page was not found." And Googling combinations of "My Straw," "MyStraw" and "Mike Lindell" produces results relating to real-life natural straw manufacturer MyStraw Company and probiotic beaded straw company My Straw, neither of them affiliated to Mike Lindell.
So yes, My Straw is a thing, but it's not Mike Lindell's thing.
What about Vax-Dar, Patriot Powder and Corn 2?
None of these are real either, you'll be glad to know. This is satire.
Vax-Dar "allows you to scan friends, family, and co-workers to determine if they've been tainted by the covid vaccine." Its "inventor," Frank Log, is not a real person.
Neither does Patriot Powder, which supposedly makes anyone who drinks it "more patriotic," exist in real life. Although the final line of the Patriot Powder ad – "Obama doesn't want you to have this" – is probably not technically untrue.
And finally Corn 2 (pronounced Corn Squared), "the sequel to corn," is clearly a joke. The premise of the joke is corn is a liberal vegetable. Incidentally, this is the product that gave the game away, for some Twitter users at least:
Does Truth Social have ads?
Truth Social users may not be seeing ads for Mike Lindell's My Straw, but are they seeing ads for other things?
Well, as of mid May this year, the app hadn't yet attracted any paying advertisers, according to a regulatory filing with the Securities and Exchange Commission, as reported by CBS.
What's more, Trump Media & Technology Group, the parent company of Truth Social, reportedly "expects to incur significant losses into the foreseeable future."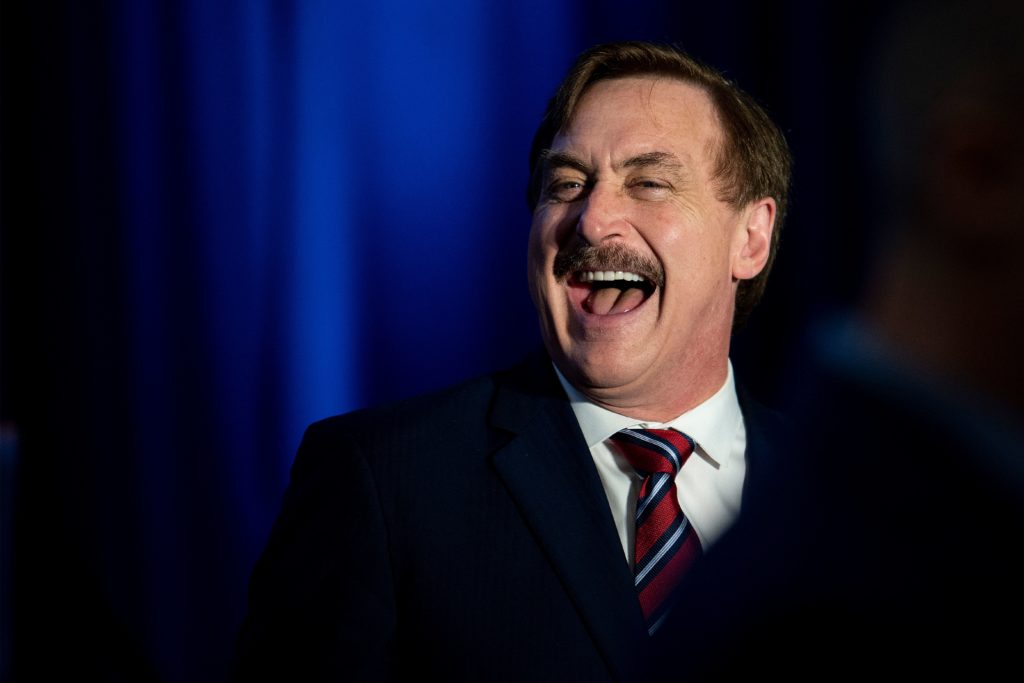 Last week, Fox News reported Trump had posted a campaign ad-style video to Truth Social following the FBI's execution of a search warrant at his residence. It ran to almost four minutes.
Twitter reacts to fake Truth Social Mike Lindell My Straw and other joke ads
Keaton Patti jokingly claimed to have downloaded Truth Social "just to see how crazy it was," and to have stumbled across the ads described above.
Given none of the products is real – or at least none is real enough to have an online presence – it's very unlikely the Twitter user actually saw the ads. But that hasn't slowed their impact.
Other social media users have been riffing on the product names: Corn 2 "finally dropped"; "Corn 2: Awww Shucks!"; "Corn Squared," etc.
One user even said the ads "are all pretty funny and clever and far more entertaining than the garbage ads [they] see on this app," meaning Twitter. "Seems fun over there."
Meanwhile, another soberly wrote: "I hope everyone here knows that this is satire. None of these things actually exist on TS or anywhere else. But go ahead and keep fanning the flames of the team sports political show dumpster fire."