As the new Massachusetts Governor and Lt Governor get down to business today after a night of celebrations, we ask who is our new Lt Gov, Kim Driscoll. Is she married, does she have kids? Everything you need to know is right here.
Maura Healey and Kim Driscoll made history on Thursday, January 5th, 2023, evening as they were integrated as Massachusetts' Governor and Lt Governor respectively.
The two women made history on three fronts, the first is that Maura Healey is the first woman to take up the office of Governor of Massachusetts, secondly, she is the first openly gay person to take said office.
Finally, they are also the first all-female team to run for public office in the United States and take the offices of Governor and Lt Governor. But who is Kim Driscoll, the right-hand woman of the new Governor? Keep reading to find out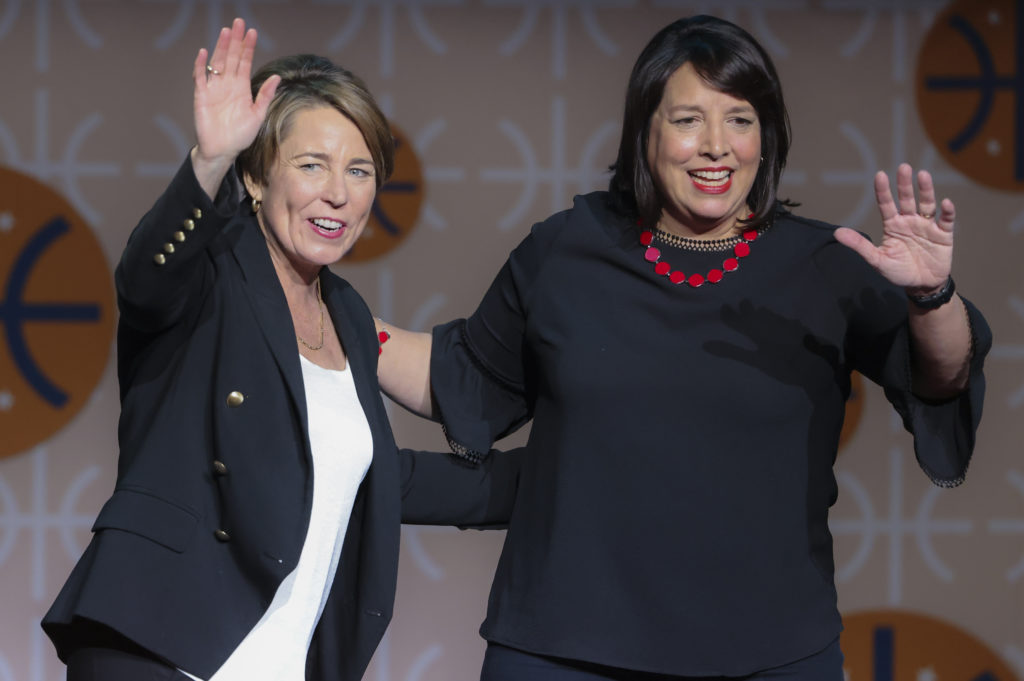 Who is Kim Driscoll? Age, Career explored
Kim Driscoll was born on August 12th, 1966 – making her 56 years old – in Hawaii while her father was serving in the United States Navy. The family then moved to Salem, Massachusetts, in 1986.
That's where Driscoll attended Salem State College; she graduated in 1989. She then went on to earn a Juris Doctor from the Massachusetts School of Law.
During college Driscoll interned in Salem's planning department, going on to become Beverly's community development director. After graduating from law school, she spent three years as a real estate and commercial development attorney. She then served as chief legal counsel and then as deputy city manager of Chelsea, Massachusetts for five years. Before running and successfully becoming mayor of Salem, in 2005, she was a councilor for the fifth ward of Salem.
Driscoll served five terms as Salem's mayor, which is 17 years. In her tenure as mayor of Salem, Driscoll managed to turn deficits into record reserve funds and saved taxpayers' money by enhancing city efficiencies, broadening the use of 21st Century technology, reforming pensions and public health insurance programs, bidding public contracts, and revitalizing Salem's downtown. She also helped Salem become a green city by making recycling mandatory.
Is she married? meet her husband, Nick Driscoll
Kim is 56 years old and is married to Nick Driscoll, a union bricklayer. The couple has three children, two girls, and a boy. Their children Dalaney Driscoll, Ailish Driscoll, and Nicholas Driscol all attend schools in Salem.
Kim took to the office of the mayor of Salem, in 2005, at a time when people question if a female should run for public office and if she would be able to handle the work.
During her campaign trail for mayor, Driscoll encountered questions about her family and her temperament: What did her husband think about her candidacy? How would she handle raising her three children? Would she be tough enough to handle the job?
Addressing this Kim said: "There was outright conversation about whether Salem was ready for a female mayor."
Lt Gov Kim Driscoll and Gov Maura Healey celebrate historic MA inauguration
On Thursday, January 5th, 2023, at the TD Garden, thousands of supporters celebrated the historic inauguration of Governor Maura Healey and Lieutenant Governor Kim Driscoll.
They made history on by being the first all-female team to run for public office. In a personal historic moment, Maura became the first female Governor of Massachusetts and she is the first openly gay elected official.
The hugely popular duo were met by screaming supporters as it was announced they had won. Addressing the crowd the newly elected Governor said: "Tonight, we celebrate, tomorrow we get to work."
Meanwhile, earlier in the day Driscoll said: "We are super excited now we get to do the work."
In a farewell address at the Salem council on Wednesday evening Driscoll said she will use her experience in the "get-stuff-done branch of government" to support Healey in pursuing improvements in affordable housing, transportation, clean energy, education and child care access – objectives she often stated as Salem's mayor.
"The next four years are critical. The upshot is that we have the tools right here to make a meaningful impact on our most pressing challenges. And we are ready to get stuff done," she said addressing the council members.
Driscoll's public school work hits close to home
Kim's three children attend public school in Salem, something which she is extremely proud of considering she was chair of the Salem School Committee.
In this position, she pushed for collaborations and strategies to improve Salem's schools and for added investments to support teachers and students.
Kim places a lot on the need for a good education and a good school system. During her tenure as chair, she pushed for change and implemented a number of programs in local schools.
For example, Kim spearheaded a specialized curriculum in the middle school grades to combat the scourge of opioids and created innovative intervention programs to help those suffering from addiction.