Artist Karen Lyons says public art needs to represent the diverse populations and voices of modern Britain, but replacing old statues with new statues in the old tradition would be a missed opportunity
How many statues are there in your town or city? Do you stop to look at them when you pass? Have they ever inspired you to learn about the people they depict? Or, as artist Karen Lyons thinks, have they become "street furniture", occupying space but never engaging.
For Karen, whose sculpture of peace activist Dr Erinma Bell was the first ever of a woman to be placed in Manchester Town Hall, statues are symbolically important but often functional rather than artistic, and replacing old statues with new statues risks maintaining the status-quo.
"People want to create a balance among the public figures we see in our spaces and that's obviously really important," she says. "But it reminds me of the feminist arguments of the 70s – you don't make progress by copying what men do. You create something different and you make it relevant.
"The monumental statues that have been in the news so much recently, those works are there to serve a function – to make individuals iconographic and to impress upon people who is in power. A statue of a person is elevated (literally above you), they're bigger than human size, they're made of a very permanent material and their pose is often about virility. The whole aesthetic is heroic and was invented to emphasise the power of the person depicted.
"But the field of art has a limitless range of potentialities, it isn't a utility in that way. Art is much more complex: it can talk about the spirit or beauty, it can be challenging and it can engage with people, it can pose difficult questions. We need to open up public monuments to a whole range of styles and aesthetic paradigms that are fitting for today."
From Karen's experience of creating public works, including the Dr. Erinma Bell sculpture, which was made from melted-down guns to celebrate Bell's activism, she thinks there are three vital considerations in how any statues which are taken down are replaced: the commissioning process, who owns the space the proposed work will be placed in and engaging relevant artists and communities in the creative process.
One part of good practice in commissioning is considering how long a public work should be in place for. The debates now raging about whether statues should be taken down wouldn't be taking place if they hadn't been placed indefinitely.
Lyons says: "When you're making public work which is properly commissioned, one of the considerations is how long it is appropriate for the art to remain in place for: if there is a time limit, what happens then? Does a committee get together to decide if it's still relevant?"
"You have to bear in mind that a lot of our 'public' urban spaces aren't actually publicly owned anymore, so the property development companies who do own the space get a say in what's going on. At the very best they have power of veto. But they could also decide that they just want to put up a statue of the CEO of their company.
"What happened to Manchester Peace Garden shows the power of property developers. The Manchester Council removed the original to make way for the new tram system. A lobby group called Friends of Manchester Peace Garden was established to re-instate the garden. Their first suggestion for where it could go was in a thoroughfare that leads from Victoria Station to the city. But that area was owned by a private property company who were not into anything to do with a load of peace activists. Absolutely not. The Arndale Centre and the Football Museum are there, and they wanted to promote their businesses – you're not going to open a Starbucks outside a peace garden, it says all the wrong things. It took years and years of discussions with the company that owns Lincoln Square – another seemingly public space – to get the garden put there."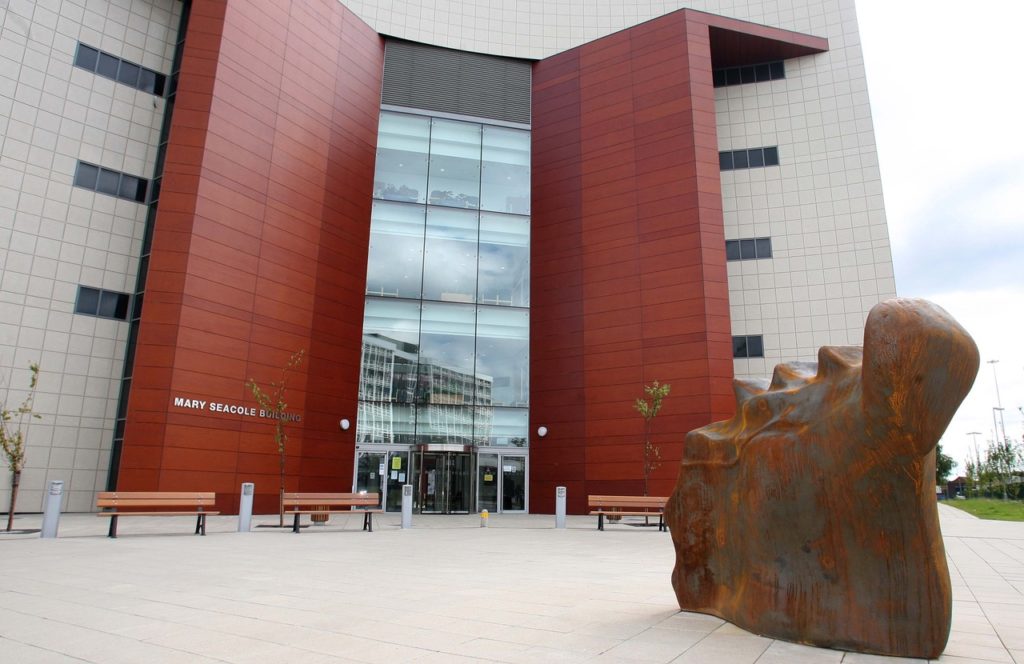 A common process for the commissioning of statues is for local enthusiasts to crowd-fund then approach the council. In that scenario, decision making about where a statue goes often become very pragmatic: a free space, a corner that isn't used much, somewhere which isn't a traffic hazard – the decision doesn't tend to be an aesthetic one. When choosing who should make the work and how it's created, councils aren't obliged to ask their art departments or the Arts Council. Karen says that often leads to treating the creator like a technician, rather than finding an artist who can create the most interesting and engaging work:
"Sculptors are trained to know about space and object dynamic, social and cultural signifiers, audience response and questions relating to scale. Often commissioners will say 'we want a statue so big, sitting on a plinth, in this pose facing this way' – aesthetic decisions they are not necessarily qualified to make.
"The process to apply to make the Gracie Fields statue in Rochdale was through the council procurement software, like it was a plumbing job or for removing the bins. You put in your details, you put in your quote, you sent it off and they sent back whether you got it or not. There was no interview and no payment for doing the proposal. The Arts Council would ask for expressions of interest, then shortlist, then pay the artists to do a proposal, because you have to do research and sketches and go out and photograph the environment where the work will go."
If we want the streets of our towns and cities to be filled with creative art, commissioning bodies need to fund the creative process. If we want that art to be representative of a modern and diverse country, it's better not to limit ourselves to the statue making community, which in Karen's experience is "small, white and predominately male". So thinking beyond statues will allow a more diverse range of artists to make more exciting and thought-provoking work.
"New works that are commemorating something that is an alternative point of reference or about different communities, you've got to ask artists in those communities to do it. The process has to be aware and open and not just thoughtlessly stick to old methodologies. The art might be sculptural, or performance, or a soundscape or film. Work has to offer more than just being a likeness of a person to have artistic merit, it has to tell a story."
Two planned sculptures announced by Hackney Council this week demonstrate Karen's philosophy in action. The two pieces, being made by Thomas J Price and Veronica Ryan, will be the first permanent artworks to honour the Windrush generation. In Karen's view they are: "exactly an example of the sorts of projects we need to see blossoming all over the country. The proposed sculptures are exciting, relevant, contemporary and made from the pool of brilliant artists we have in the UK."