I used to be vehemently against eBooks; then a global pandemic happened. Without access to my local library, and not wanting to use up Amazon's limited resources on my endless orders, I resorted to buying books on Apple Books and reading them on my phone.
Throughout the duration of lock-down, I have probably read around 30 books this way, and I can truly attest to the way in which it has revolutionised my reading experience. I have access to pretty much any book I want, at any time, in any place, in any font and size, and using any compatible device available to me.
There is no doubt that the growing popularity of eBooks is a component of our society's digital transformation and subsequent move to doing everything we can online. Collectively, as a society, we have less storage space and are moving around more, making it impractical to own physical copies of books. While Kindles and other online readers were very popular for a while, and continue to be used by many, they seem to have caused less of a cultural revolution than was expected. Perhaps this was because people still preferred reading real print rather than through a screen, or maybe these devices simply weren't considered to be worth the extra hassle. Yet, once it became possible to get whole books directly onto our phones, this became the most obvious gateway to getting people to read more.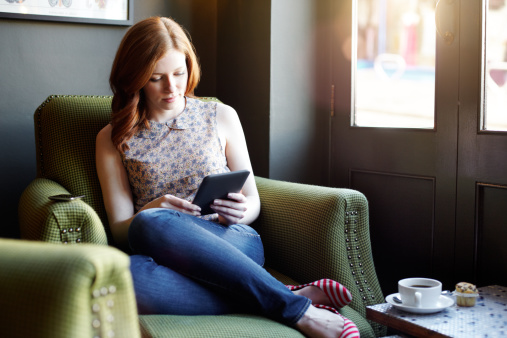 These days, the majority of smartphone users rely on these devices for virtually everything that they do – from listening to music to organising and paying for transport to taking and posting photos online. Adding reading to this list of infinite activities seems like an inevitable consequence of our relatively newfound digital lifestyles. Now that the 'iBooks' app has become one of the ones I most frequently use, I find myself reading books during breaks in my day where I would otherwise have been checking the news or scrolling through my social media feeds. Of course, this is not to say that digital eBooks equate to the real thing (I often feel more that I am reading a blog post than an actual published book), but I do think there should be some acknowledgment of the practicality and subsequent accessibility of them.
Inevitably, there has been a backlash against the increasingly popular phenomenon of reading books online rather than in print. The chief executive of Hachette Livre, Arnaud Nourry, stated that 'eBooks are stupid', after contemplating the lack of creativity and innovation in the world of digital publications. While I do recognise that there are obvious limitations to the screened format of what should traditionally be viewed in print form – primarily the way in which it is catalysing a move towards the digital takeover we are beginning to see on an unprecedented level – there are numerous benefits to this that perhaps we were not able to comprehensively consider pre-pandemic.
Ultimately, now that we are beginning to see the ways in which the world is going to invariably change following the universal disruption of covid-19, it is evident that the move towards online living is becoming ever more prominent. With more people working from home, and communication that would have previously taken place online now being done over the phone and computer screens, it seems that every aspect of our lives is reaching peak digital optimisation. There is nothing to suggest that the act of reading is going to be left behind in this way, so perhaps it is time to collectively admit that eBooks are not going away anytime soon, and instead embrace the possibilities and opportunities that they will bring.
Related Topics