Liverpool-based author, Natalie Reeves Billing has just released her second children's book, 'Ben and the Bug', intended to help kids understand Covid-19 and ease their anxieties. The title has already reached the top of Amazon's New Best Sellers list.
The story is about Ben's new friendship with a bug, who just wants to meet people but isn't aware that he's getting them sick. The story is told in a split perspective, with readers hearing from both Ben and the Bug.
Natalie said: "I looked online for books that cover coronavirus and they were more factual, like school textbooks, [and] focused on specific parts like lock-down. This book is more general, it's a blanket story for the whole thing.
"I'm in the middle of a collection, 'Monstrous Me' and during lock-down this idea kept coming into my head to lessen anxiety, discuss how strange this situation is without making it too light."
Throughout the book, facts about Covid-19 and hygiene are added to help children understand the situation and how they can help prevent spreading the disease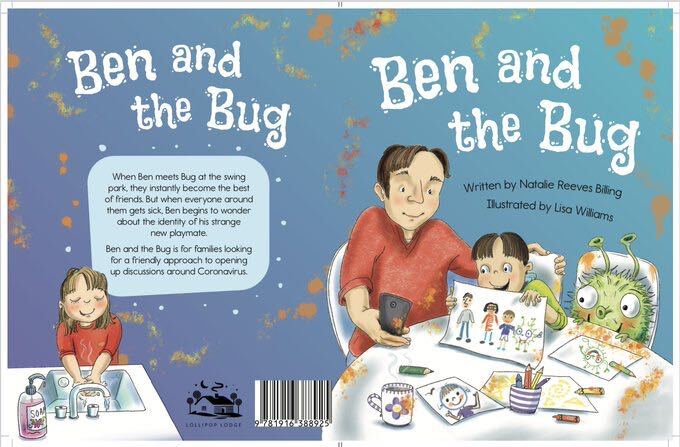 "The story has an uplifting ending," adds Natalie. "It shows that we will overcome this."
"I was surprised by the reaction, I published it on Amazon and overnight it was already number one for new best sellers."
Teaching empathy through split perspective stories
The 39-year-old explains why she prefers writing in a split perspective: "I want to make my books interactive. After reading about the literacy rate dropping, how can a book compete with a computer?
"Once readers get to the middle of the book they're asked to close it and reflect. Then they flip the book over and read the same story, but told from the other person's perspective.
"It's a great way for kids to learn to look at something from another viewpoint and put themselves in someone else's shoes."
Free activities relating to the book, such as creating monster masks and colouring pages are available on Natalie's website. It also includes a 'further discussion' topic that features classroom activities, like comprehensions. You can download "Ben and the Bug" here.
Related Topics