Comedian Bert Kreischer took to social media yesterday as he shared a photo flexing his arm muscles as he asked fans which one they thought he had surgery on. Following the post, some are curious to know why Bert Kreischer had surgery.
Bert Kreischer surgery post sparks interest
In a post to both his Twitter and Instagram yesterday (Saturday, 21 August), Bert Kreischer uploaded a snap of himself as he flexed his arm muscles, showing one arm noticeably bigger than the other.
Captioning the post to his 1.7 million followers, he joked: "Guess which arm I had surgery on?"
Fans were quick to reply to the comic's post as some noticed the door background around his left arm was warped.
One wrote on Instagram: "Looks like that door frame had surgery too, " while another added: "Haters gon' say it's fake."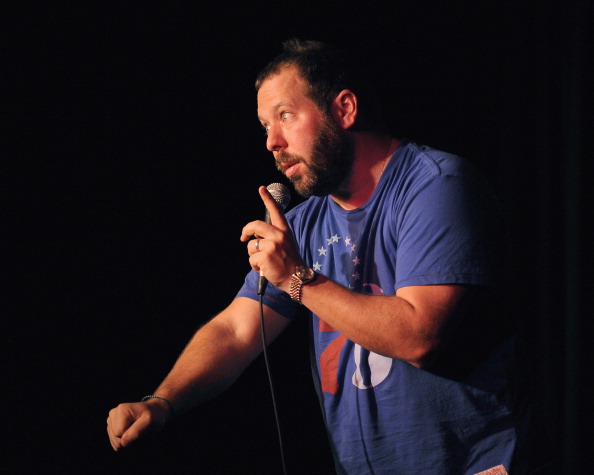 CELEBRITY: Crazy height difference between Bol Bol and his girlfriend revealed
TRENDING: Drake's green watch stirs Kanye West beef: Group chat text explained
Why did Bert Kreischer have surgery?
Following his recent post on social media, some are curious to know the reason behind Bert Kreischer's arm surgery.
Bert Kreischer previously addressed why he had surgery in an episode of his joint podcast 2 Bears, 1 Cave with fellow comedian Tom Segura.
In episode 92 of the podcast which was published 2 August, Kreischer explained he needed surgery on his left arm following a fall. He said: "I can't go into too much detail, but I fell. I fell acting in a movie.
"I was doing all my own acting, and I fell, and kind of tweaked my elbow, and I thought it was fine, and I continued to live my life like it was fine, I thought it was healed.
"Then one day, I caused more damage, and I heard three pops, and I tore 59% of the tendons in my left elbow, attaching my tricep."
Kreischer had surgery on his arm at the end of last month (29 July) and at the time shared a snap in his surgical robes on Instagram.
EXPLAINED: Who was late musician Don Everly's wife Adela?
Comedian's career explored
Bert Kreischer, who was born 3 November 1972, is a stand-up comedian known for his appearances across TV.
Some may be familiar with Kreischer for his comedy reality Netflix series The Cabin With Bert Kreischer. The series sees Kreischer head to a cabin for a journey of self-care as he is joined by some funny friends and comedians.
He is also an actor and, according to his IMDb page, has appeared in 2007 film Alpha Mail as well as drama series The Shield.
Related Topics