Veteran sportscaster Vin Scully, who was announcer for the Los Angeles Dodgers for more than six decades, has passed away aged 94. As Dodgers fans pay tribute to the late broadcaster online, some fans have wondered where they can buy Vin Scully shirts to wear in his honor.
News of his passing was announced by the Los Angeles Dodgers on Tuesday (August 2). Scully had called Dodgers games for more than six decades. In the statement by the team, the broadcaster was described as the "heartbeat" of the Dodgers, with the team's president and chief executive Stan Kasten adding he was "one of the greatest voices in all of sports."
As tributes to Vin Scully take over social media, some have begun sharing their admiration for the sportscaster by wearing shirts in his honor.
Tributes to late broadcaster take over social media
Fans and figures from across the world of baseball have since paid tribute to Scully online. The Twitter for Major League Baseball wrote: "We mourn the passing of legendary broadcaster Vin Scully. He was 94."
After announcing the news of his passing in a statement, the Los Angles Dodgers Twitter account also shared a video looking back on his life and legacy as it wrote: "There will never be another Vin Scully. You will be forever missed."
Amid the tributes, some fans noted mentions of T-shirts inspired by Vin Scully and wanted to know where they can buy their own.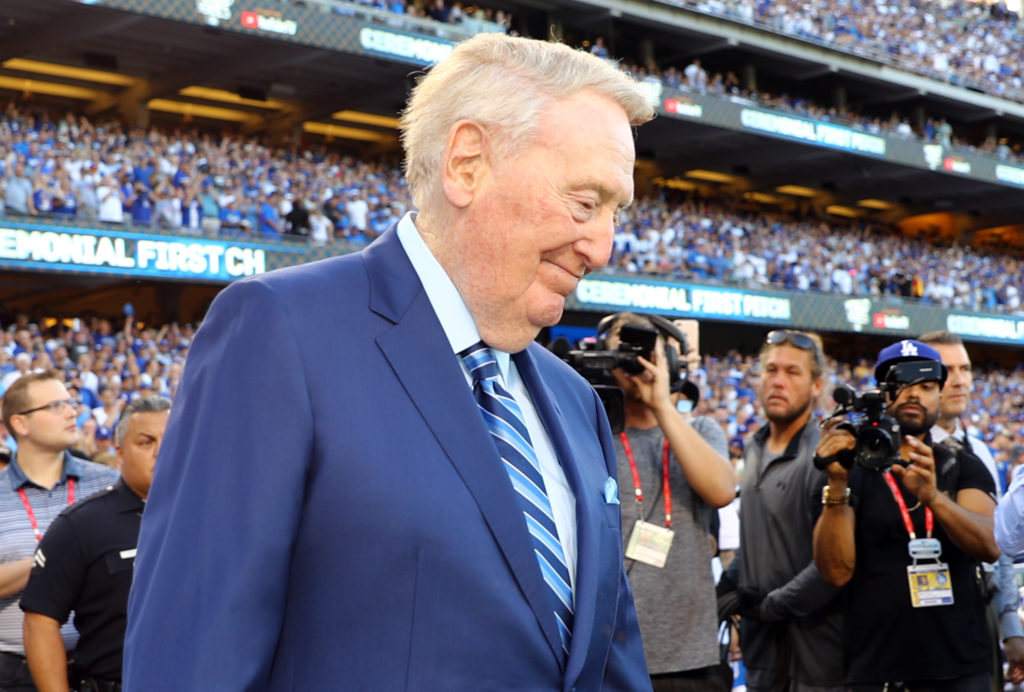 You can buy shirts on Vin Scully's official merch site
Those wanting to buy a Vin Scully T-shirt can do so on the broadcaster's merch online store. 
There are three designs available, which are all priced at $35 and reference the Los Angeles Dodgers' colour scheme of blue and white. 
The first design features a cartoon of Scully showing off the ring he wore throughout his career as it honored his 67 years in broadcasting. 
The second sees the sportscaster's name across its chest along with his classic "It's time for Dodger baseball" catchphrase as well as a baseball with the number 67. 
The final design also references a memorable quote of Scully's as he called Kirk Gibson's home run In the 1988 world series. Scully called the now iconic line: "High fly ball into right field. She is gone."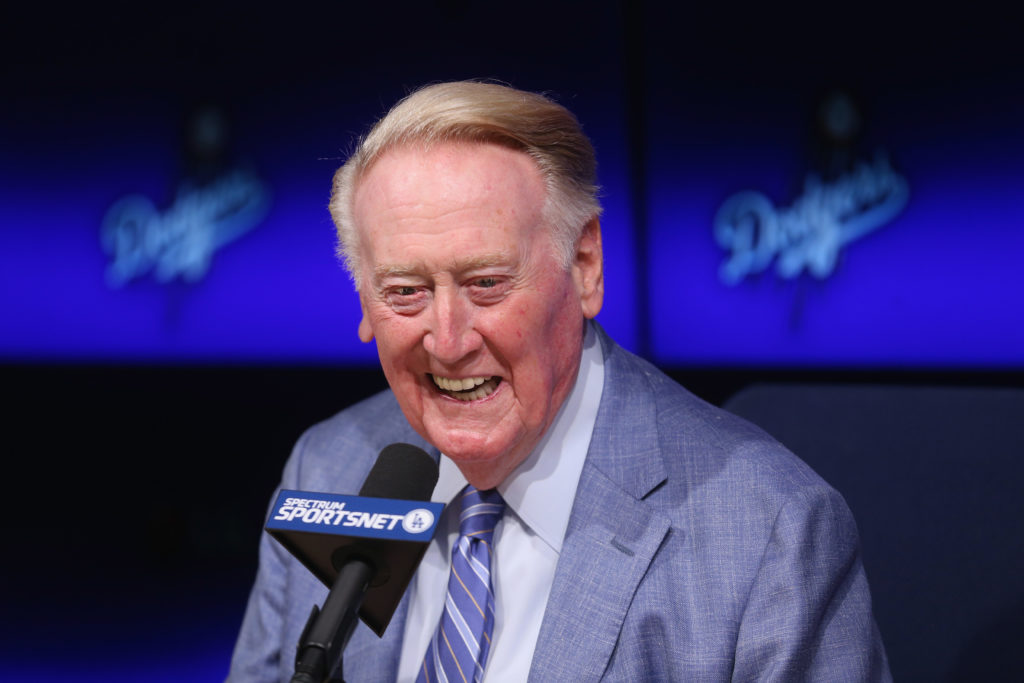 Remember his classic intro line and career with these shirts
As baseball fans will know, before each game the veteran sportscaster would kick off his commentary with his signature line: "It's time for Dodger baseball!"
His classic line has gone on to feature on different merch over the years, including T-shirts. We found the sportscaster's catchphrase incorporated into a few shirt designs on Amazon. 
Other shirt designs online honour the broadcaster's years behind the microphone. In a couple shirts on baseball lifestyle brand Baseballism's site, Scully's microphone features and also incorporates his name. 
Other designs with microphones are also available on Amazon, with one also featuring 67 in the shirt's graphic representing his stint in broadcasting.
Related Topics