TikTok star Addison Rae's mother Sheri Easterling kissed rapper Yung Gravy at the MTV Video Music Awards on Sunday, raising questions about their age difference and what it meant.
NBC News writes that Yung Gravy, whose real name is Matthew Raymond Hauri, said he and Addison Rae's mom met online and instantly "connected."
Hauri said during a red carpet interview that he's "into MILFs," People reports, and that Easterling is the "queen of MILFs."
Addison Rae's parents separated more than a year ago, according to a report from the same outlet.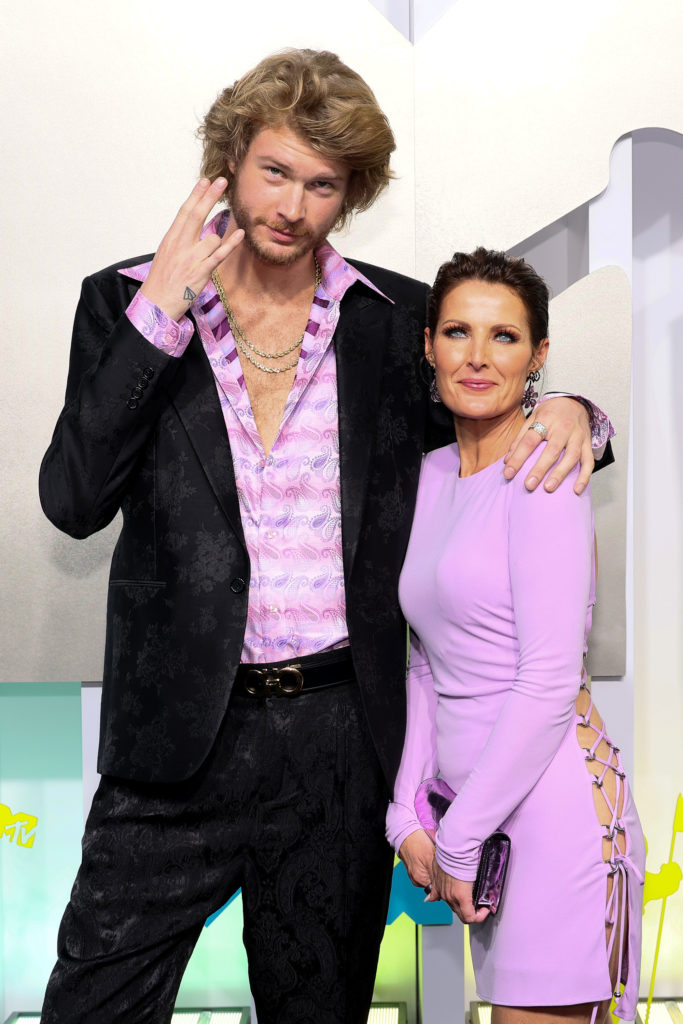 What is the age difference between Addison Rae's mother Sheri Easterling and Yung Gravy?
Yung Gravy is 26 years old. He'll turn 27 next year, on March 19. He was born in 1996, four years before Rae.
Born October 6, 2000, Addison Rae is currently 21 years old and will turn 22 later this year, making her almost exactly half her mother's age, at the time of writing.
Numerous outlets list Sheri Nicole Easterling's birthday as September 4, 1979, meaning the age of Addison Rae's mom is currently 42. She will, however, turn 43 very soon.
That means the age difference between Easterling and Hauri (Yung) is between 16 and 17 years.
How did Yung Gravy and Sheri Easterling meet?
Online, according to Hauri. During a pre-show interview with MTV at the Video Music Awards on Sunday, August 28, 2022, he spoke about how his relationship with Addison Rae's mother developed.
"We met online. Yeah. We connected right away. I'm from the furthest north it gets, she's from the furthest south it gets."
The pair kissed on the carpet, although it's not clear from that what exactly is the nature of their relationship. Page Six reported a day later, for example, that a source "close to Yung Gravy" had told them the two celebrities' fling is a "PR relationship" for the purpose of "viral bait."
"It's a PR relationship. It's kissing, but it's not real," the source reportedly claimed.
The Focus has reached out to Mr. Hauri and Ms. Easterling for comment on the claim.
Is it Sheri Easterling or Sheri Nicole?
She goes by Sheri Nicole on Instagram. This appears to be her middle name; her last name is Easterling, according to Famous Birthdays.
Besides being a mother to Addison Rae, she has two sons, Lucas and Enzo, ages eight and 14 respectively.
All three children – Addison, Enzo and Lucas – have both Sheri and Monty Lopez as parents. Addison likely uses a middle name or pseudonym on her social media profiles.
Monty is four years older than the mother of his children. He'll turn 47 in November later this year. He's been signed with talent agency WME since January 2020, a year before he and Sheri separated, according to People.
How old was Addison Rae's mom when her daughter first became famous?
Addison started dancing competitively at the age of six, shortly before the birth of her now-14-year-old brother Enzo.
She was also a member of her high school cheer team and did gymnastics as a teenager, but first posted to her Instagram account in October 2014.
That was the month Addison Rae turned 14, meaning her mother's age was about 35. Rae signed with talent agency WME in January 2020, the same time Easterling did, and they began co-hosting the Mama Knows Best podcast together later that year.
Collectively Rae, Easterling and the Lopez boys run The Rae Family TikTok account. It launched in March 2020.
Related Topics