Celebrated Mexican singer Vicente Fernández is reported to have been hospitalised following a severe fall. The news was announced in a statement across the performer's social media. Fans are now curious to know more about Vicente Fernández's relationship with wife Maria del Refugio Abarca Villaseñor.
Celebrated singer is hospitalised after fall
Vicente Fernández was reported to have been hospitalised following a severe fall after a statement was released on his Instagram and Facebook yesterday, Tuesday, 10 August.
At the time, the statement revealed Fernández had surgery after sustaining a severe spinal injury and that he is now in a "serious but stable" condition.
The full statement is said to read: "We thank the media, as well as his loyal followers and inform on behalf of his medical team with the permission of the Fernández Abarca family, that the current state of Don Vicente Fernández is undoubtedly serious, but stable, as is the sequence of trauma caused by the fall itself that generated spinal cord trauma at the level of the cervical spine.
"At this point in the post-operative period, he is undergoing ventilatory assistance and critical patient care in the Intensive Care Unit. Thanking everyone for their concern. They will be kept informed according to its evolution."
CELEBRITY: Does Christina Applegate have any children?
TRENDING: Bfb Da Packman's Lil Durk Instagram post explained
Who is Vicente Fernández's wife?
The singer is married to wife Maria del Refugio Abarca Villaseñor, who he lovingly refers to as Cuquita. Fernández and his wife have been married for 58 years, having tied the knot in 1963.
The performer is often seen to feature Villaseñor on his Instagram as he shares his love for her with his 2.1 million followers.
While sharing a picture alongside her earlier this year in January he gushed about how their relationship has evolved over the years.
He wrote: "We've changed over the years, but the sparkle in your eyes is more intense than ever, and my love for you is even stronger. #TeAmoCuquita."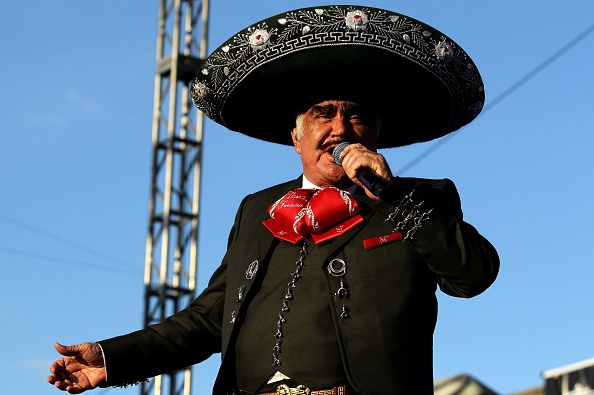 EXPLAINED: Who is YouTuber Derek Deso's wife Sophia Turner?
Vicente Fernández's family explored
During their marriage, Fernández and Villaseñor welcomed four children together, including three sons Alejandro Fernández, Vicente Fernández Jr and Gerardo Fernández, as well as daughter Alejandra Fernández.
Their family has since grown as the couple are now grandparents, with the singer having previously performed alongside son Alejandro and grandson Alejandro Fernández Jr.
Over the years Fernández has featured many family snaps on his Instagram, and in 2018, shared a picture alongside his children and grandchildren as he opened up on the joy of being a parent.
At the time, he wrote: "Congratulations to all who like me have had the joy of being parents. Celebrate them a lot like they're celebrating me!"
Related Topics