Ukranian tennis player Elina Svitolina may have lost her US Open match against Canada's Leylah Fernandez, but it's her thigh tattoo that's the topic of conversation.
Elina Svitolina's winning streak in the US Open was ended by 19-year-old Leylah Fernandez in their quarter-final match on 7 September 2021 at the Arthur Ashe Stadium.
Indeed, the match was incredibly close with spectators shocked at the teen beating the world number three. However, it was the intriguing image on Svitolina's thigh that caught the eye of many viewers.
NEW: Who is baseball star Derek Jeter's wife, Hannah?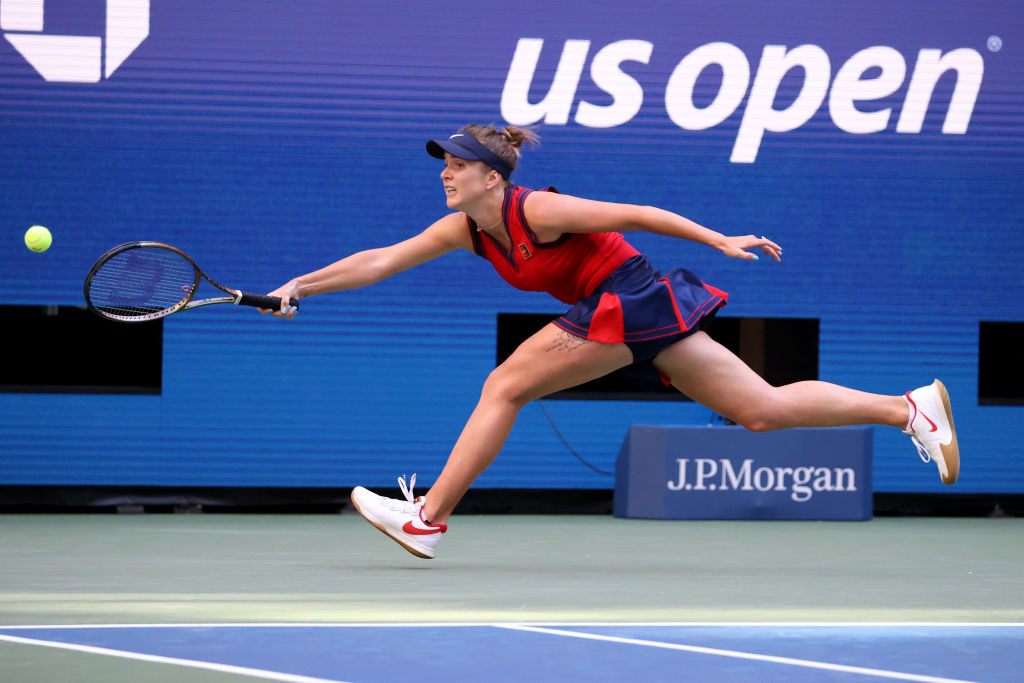 Check out Elina Svitolina's thigh tattoo
The thigh tattoo from 2017 is a geometrical tiger, decorated with hanging jewelled beads, like a chandelier.
Positioned on the outside of her upper left thigh, tigers signify strength, determination and courage, among many other traits.
Tattoo placement is said to have meaning itself, with thigh tats possessing sentimental value. At the same time, it conveys the person doesn't want it to be visible at all times since the thigh isn't usually exposed.
Svitolina hasn't been shy about flaunting her impressive body art, she posted a clear photo of it during the 2018 US Open.
She previously mentioned: "It's very personal, actually. I know you can see parts of it but, yeah, it's quite personal. You know, it's like my way."
Elina's other body ink
On the side of her right hand, the tennis star has 'Carpe Diem' written in cursive. The Latin phrase translates to 'seize the day' and was used by Roman poet Horace, with the meaning one should enjoy life while one can.
The term is now widely known as 'to live in the present' and to not bother so much about future consequences.
MORE: Who is Cody Rigsby's partner, Andrés Alfaro?
Just underneath her Carpe Diem ink, the Olympic bronze medallist has the Om symbol on her inner wrist.
Pronounced 'Um', it is a sacred spiritual symbol in Indian religions, primarily Hinduism. In the religion, it is the first sound from the beginning of time and it also encompasses the present and the future. Therefore, the sacred syllable is considered the sound of the universe.
Other tennis players who rock their tattoos
Polona Hercog
Slovenia's Polona Hercog has a full sleeve on her right arm, with large angel wings occupying her entire forearm. Her bicep is decorated with roses and a prominent skull. While skulls are linked with death and evil, they can represent confidence and courage.
For Polona, she simply appreciated the aesthetic of the skull: "I chose the skull because I like the image. Sometimes I think it's part of me."
The 30-year-old is currently working on her left arm – her inner bicep is adorned with a clock and rose tattoo. Clocks mark significant life events, while roses represent love. Together, they are the meaning of love and life.
Bethanie Mattek-Sands
36-year-old gold medallist Bethanie Mattek-Sands has a more playful approach to her floral arm ink. Starting from her wrist and running all the way to her shoulder, the vibrant art is a reflection of her adventurous personality.
Speaking about it previously, she mentioned:
"A lot of girls have tattoos now, but I was probably one of the first to have tattoos that were visible on the court. I had coloured hair. I wore different outfits. I guess I've always been a bit of a rebel."
Related Topics