Ric Flair has been in the headlines after a case of mistaken identity on social media. It led people to become curious about Nature Boy's personal life and Ric Flair's wife Wendy Barlow.
Why is Ric Flair in the news right now?
WWE legend Ric Flair is in the news for a case of mistaken identity.
An image went viral on Twitter on Wednesday, 18 August featuring a man – who some thought resembled Ric Flair – performing a crude act on a train.
Nature Boy caught wind of the image and confirmed it wasn't him.
In fact it couldn't be – the wrestler never travels by train.
Who is Ric Flair's wife?
Ric Flair's wife is Wendy Barlow.
Wendy is a mum-of-four and Rick Flair's fifth wife.
The couple got engaged in 2016 and tied the knot in 2018.
Ric and Wendy actually go way back, though. In 1993 she worked with the wrestler as his WCW valet, Fifi The French Maid.
What is his wife's age?
There is an 11-year age gap between Ric Flair and his wife Wendy Barlow.
Ric is 72 years old and was born on 25 February 1949.
Wendy is 61 years old and was born on 7 March 1960.
Last year the couple had a covid-19 scare
In 2020, the couple had a difficult time after Wendy caught covid.
The New York Post reported Ric's wife was very ill at the time but came through after a fierce battle.
Wendy was forced to self-isolate as a result, with Ric saying they had barely seen each other despite sharing the same home.
Speaking about his wife's condition in July 2020, Ric told the Hall of Fame podcast: "She's doing great. Much better. Not 100 per cent but she's doing much better.
"It was a nightmare. She was really sick. I took her to the hospital twice. [She got an] IV once, just to make sure she's OK. They released her both times after keeping her for a couple of hours.
"You can't be careful enough. In the world I live in lately you gotta double-think, double-check and cross-examine everybody. It's brutal."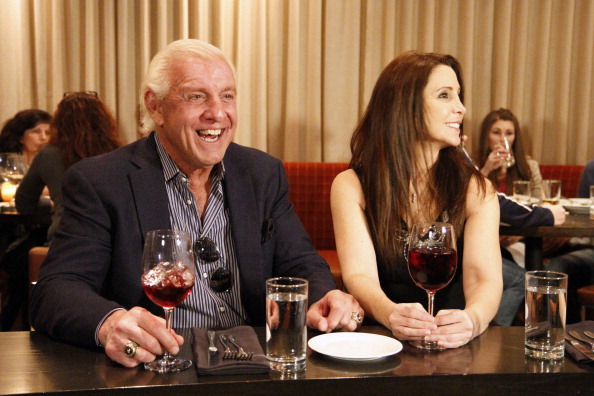 Wendy Barlow on Instagram
Thankfully, Wendy looks to have made a full recovery.
She was recently at Chichen Itza in Mexico and uploaded a video of herself.
Wendy has 30,000 followers on her account @thewonderouswendy, which features some photos of her and Ric.
Related Topics