Lisa Rinna and Harry Hamlin's relationship all started with a brief restaurant encounter, but 30 years later the duo remain inseparable.
After 25 years of marriage, the pair have proven that their love can stand the test of time, but let's take a look at a timeline of how it all began…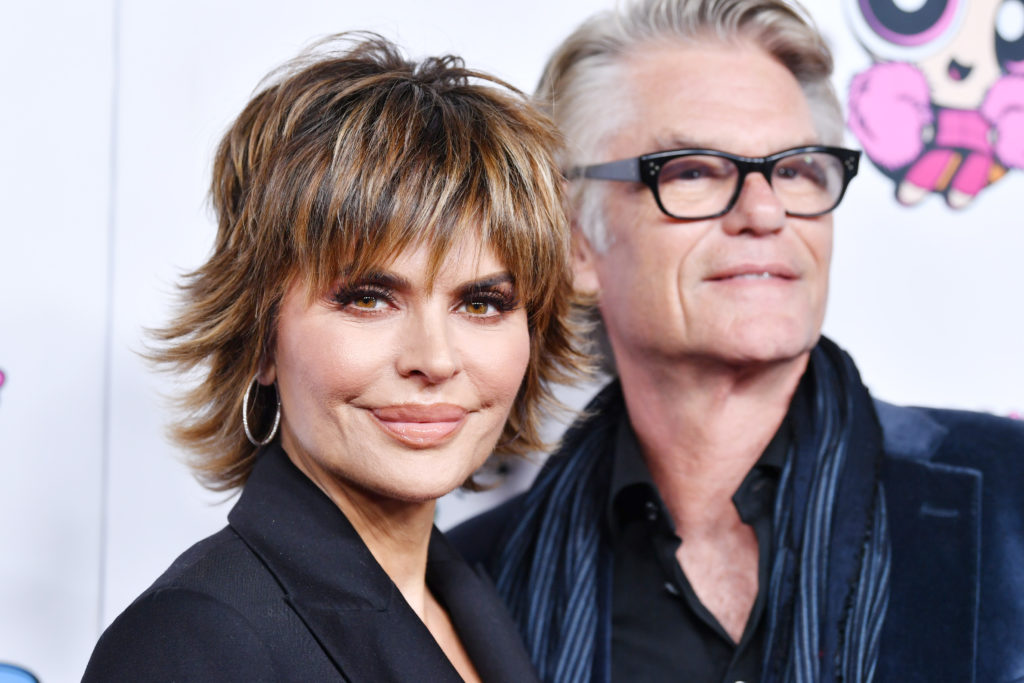 Inside Lisa Rinna and Harry Hamlin's relationship
The duo first met back in 1992 while they were both in different relationships. Hamlin was married to actress Nicollette Sheridan at the time and he recalls that he saw Lisa leaving a restaurant with her boyfriend: "I was sitting with my wife at the time … and this absolutely gorgeous girl walks by me. Might have said hello … I was married, so I wasn't thinking beyond that, but I recall being stricken by her beauty." Hamlin told PEOPLE.
However, it didn't take long for a chance encounter to turn into something so meaningful. Rinna was working at a glasses shop and the owner was a good friend of Hamlin. Rinna was working until closing one evening and dropped the keys to her boss who was out at dinner with Hamlin. She was invited to have dinner with the duo and the pair hit it off straight away as she told them about her experience watching Cirque Du Soleil the night before.
Their magical first date predicted fate
Not long after that Harry invited her to join him on a holiday trip to Aspen but Rinna played hard to get and turned him down to spend time with her family. However, Harry didn't give up and he called her every day over the Christmas break and his trip to Colorado.
Finally, the pair ventured on their first date and something that an elderly waiter said to them has stuck with the pair. The Italian man told them, "'You two, you are lovebirds. You are soulmates,' " Hamlin explained "The whole evening he said, 'You guys are going to get married. You're gonna have kids.' And this is our first date and the waiter's telling us all this stuff." Little did they know, he was right…not long after that they were dating and five years later they tied the knot.
Lisa Rinna and Harry Hamlin tie the knot
On March 29, 1997, Rinna and Hamlin married in a candlelit tent surrounded by 150 of their family and friends. The ceremony was held in the backyard of their home in Hollywood Hills.
The couple welcomed their first daughter, Delilah Belle, in 1998, and their second daughter, Amelia Gray, in 2001. In 2003, Rinna and Hamlin opened a clothing boutique named after their daughter, Belle Gray. The shop sold women's clothing and was open for almost a decade before shutting down due to the couples' busy schedules.
Rinna and Hamlin liked to begin projects together and they both featured in Broadway's Chicago in the summer of 2007. Just three years later the couple dived into reality TV as they signed on for their own show, Harry Loves Lisa, which ran for one season.
Becoming reality TV stars
However, the reality TV world wasn't over for Rinna as she was approached to join the cast of the Real Housewives of Beverly Hills, for the fifth season. Hamlin wasn't a fan of the idea at first which put Rinna off, but he changed his mind just a few days later and told his wife to go for it.
Hamlin later explained that he believed "everybody who does that show gets divorced." but after having a conversation with Bethenny Frankel, he decided it would be a great business move for his wife.
Of course, the pair have had a couple of bumps in the road, but nothing the duo can't joke about. In September 2020, Rinna shared an appreciation post for her husband and jested about the rumors that he was having an affair. Rinna quickly shut them down: "#Fbf Appreciation Post To my very busy Husband who apparently doesn't live with us, is having a lot of affairs, and is gay. Go Harry F—— Hamlin," she wrote.
In honor of the couple's 25th wedding anniversary, Rinna shared some throwback pictures of their wedding. In the caption, she wrote "They lived happily ever after. March 29, 1997, 25 years ❤️."