The latest documentary about tech entrepreneur John McAfee, Running with the Devil, lets in viewers on John's complicated home life, including the difficult early relationship with daughter Jen.
Running with the Devil: The Wild World of John McAfee released to Netflix on August 24, 2022.
Notorious computer mogul and two-time presidential candidate John McAfee was best known for creating McAfee anti-virus computer software. While his wild personal life and tech legacy had been the subject of a number of documentaries, few have mentioned the relationship John had with his daughter Jen.
Running with the Devil, directed by Charlie Russell, explores the wild years John McAfee spent on the run while also touching on the difficulties he faced on fatherhood.
About John McAfee's daughter Jen
In Netflix's Running with the Devil, viewers learn about his confirmed daughter Jen, with whom he had a difficult early relationship.
The documentary reveals, "he stopped being a dad to her" as a result of his drug use and difficulty adapting to the 'father' role due to his young age. Images from their early years together are shown in the documentary, although Jen has opted to stay out of the public eye in the decades since her father rose to notoriety.
John McAfee first opened up about Jen in his NFT documentary Uninstalled.
In this documentary, he explained: "I think I treated my daughter like I would treat anyone. Just an average human being.
"It didn't work out very well because she was far more dependent… I was way too young to be a father, even though I wanted to be a father."
John then added: "I was stoned out of my mind on every conceivable type of drug and was not the type of father that my daughter wanted, and certainly not the type of father my wife would like me to have been… I did the best with what I had."
REVISITED: Kobe Bryant saved the day in forgotten Hang Time cameo with Anthony Anderson
Jen fought to have John's body flown back to US for burial
John McAfee died on June 23, 2021, at a prison in Barcelona. As the Netflix documentary explores, there has been much speculation over the cause of John McAfee's death.
Back in February 2022, Spanish authorities declared John McAfee's cause of death as suicide, according to MarketWatch's report. While Janice Dyson McAfee claims there to be suspicious circumstances surrounding John's death, his daughter Jen believes the cause of death and her father took his own life.
Jen, who is now based in the Denver area, told MarketWatch in June: "This has been one of the longest years of my life. I would not wish this journey on anyone."
As of this summer, John McAfee's body remains in Spain. Both Jen and Janice had been vying to have John's remains returned to them. CBS reported back in August 2021 Jen was considering dropping the fight, so her father's remains could be buried peacefully.
John McAfee claimed to have over 47 children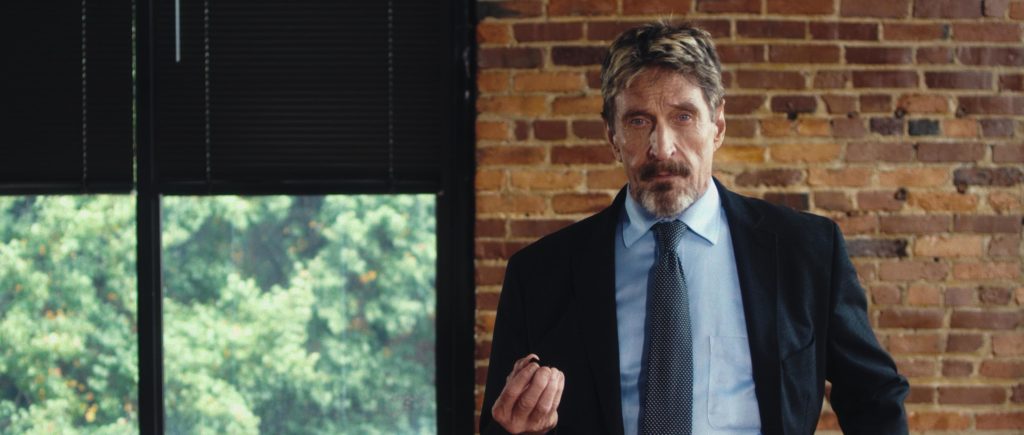 Not only was John the father of Jen, but reportedly 46 others. On January 18, 2020, the late John McAfee surprised his Twitter following with the claim he had 47 children and 61 grandchildren.
In a tweet, John previously wrote: "Since you asked: I have 47 children. 61 grand children, 19 great-grand children I have met none of my great-grand children."
He followed this with another tweet reading: "These numbers might have been much smaller, Had DNA testing been around while I was growing up. No interest at this point. To me, Legacy has nothing to do with blood And everything to do with the understanding – That every child who crosses your path, Is your child."
John McAfee on his other children
Given that John McAfee alluded to the significant number of children he supposedly had, inevitable interest in his kids has arisen.
One of the daughters John had publicly spoken of is Nyana. On March 31, 2019, John McAfee tweeted: "Is Nyana really my daughter? "Yes". "No" would be part false. She mirrors my thought crimes to a T, and could be my young self in her talent for deceiving adults."
In 2019, John tweeted about the loss of his son in a delta wing sport plane accident. He also once tweeted about a son named Elijah in 2018, although he claimed that "Elijah is not one of my 47 children who carry my genes," but still considered him a son.
CELEBRITY: Meet Sydney Sweeney's parents as family celebrate mother's 60th birthday
If you've been affected by this story you can contact American Addiction Centers on (877) 686-7688 or Talk To Frank on 0300 123 6600 in the UK.
If you are affected by any issues raised in the article or would like someone to speak to, please call the Samaritans for free on 116 123. You can also email them at [email protected] or visit samaritans.org to find your nearest branch in the UK. In the US, please visit Samaritans USA for more information.
You can also contact the National Suicide Prevention Lifeline at 800-273-TALK (8255) or text 741741 to get in touch with the Crisis Text Line. Americans can now call or text 988 to reach out and speak to a counsellor.
Related Topics