Country singer Jimmie Allen has opened up on family life as he and his wife Alexis featured in People's Family Issue. Following their feature, fans are curious to know how many kids Jimmie Allen has. We explore the musician's family and marriage to wife Alexis.
Who is Jimmie Allen?
Jimmie Allen, born 18 June 1986, is a country singer-songwriter known for his singles Best Shot and Make Me Want To.
He released his debut album, Mercury Lane, in 2018 and has become known for his album Bettie James, where he collaborated with many well-known country artists, including Noah Cyrus.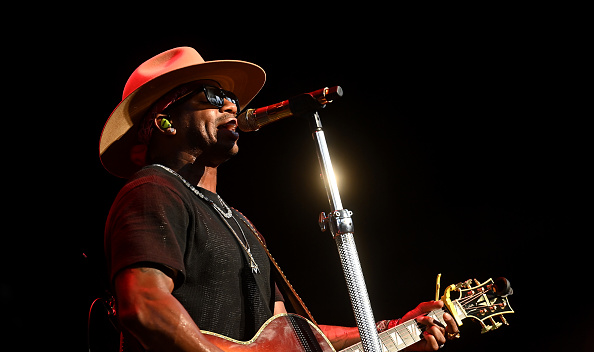 CELEBRITY: Why does TikTok think Pete Buttigieg and Elon Musk are brothers?
TV: Who is in the Impeachment: American Crime Story cast?
How many kids does Jimmie Allen have?
Jimmie Allen has two children, with a third on the way. The singer's eldest child, Aadyn, who he welcomed in a previous relationship, is seven years old, while his youngest, Naomi, who he shares with his wife Alexis, is one.
Allen is set to welcome his third child, and his second with wife Alexis, later this year after announcing they were expecting in June.
In a recent interview with People as part of their Family Issue, Allen opened up on how Aadyn gets on with his younger sister Naomi and how excited he is for his new sibling to arrive.
He explained: "Aadyn's really good with Naomi. He likes being a big brother to her. There are times where he says, 'She's hitting me' and I'm like, 'You have to understand she's a baby.' And he says, 'Yeah, I know.' But he's excited to have another baby sister."
TRENDING: What is the meaning of RuPaul's favourite word "mexicatessen"?
Country singer's marriage explored
Jimmie Allen and wife Alexis Gale are said to have first met in 2019, when Allen's cousin introduced them.
The couple later hit it off after they bonded over their shared home town of Milton, Delaware.
Allen went on to pop the question in June of the same year, just months after they began dating.
Two years on, the couple tied the knot this year in May and at the time both shared wedding snaps to their Instagram.
Related Topics