WWE star Sheamus's girlfriend Isabella Revilla revealed the professional wrestler had popped the question earlier this week on Instagram. Following the announcement, some are curious to know more about Isabella Revilla's age and her relationship with Sheamus.
Who is Isabella Revilla?
Isabella Revilla is best known alongside her now fiancé WWE's Sheamus. Away from their relationship in the spotlight, she has amassed over 11,100 followers on Instagram.
On the picture-sharing platform, Revilla often shares photos of her travels and her rescue dogs as well as cute snaps alongside her family.
Not much is known of her life offline although Essentially Sports have reported Revilla currently works as a Loan Processor at Mortgage World Bankers.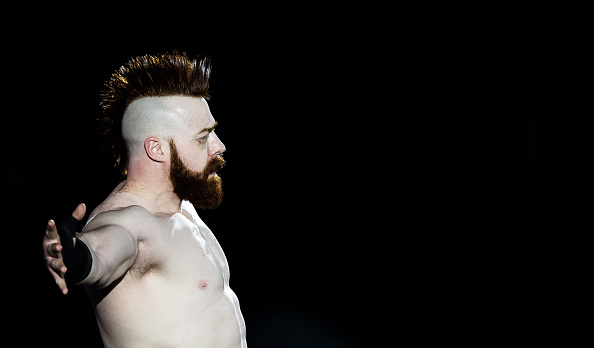 TRENDING: Where was The Cook Of Castamar filmed?
EXPLAINED: Death announced of wildlife consultant and army veteran Joel Gupton
WWE star Sheamus and Isabella Revilla's relationship explored
Isabella Revilla and WWE star Sheamus whose real name is Stephen Farrelly, are said to have first started dating in 2018.
Looking back on their relationship last year Revilla shared a series of sweet moments from their relationship so far. Captioning the post she wrote: "How It Started. How It's Going."
More than three years later the couple have announced their engagement with fans online. Revilla revealed the WWE star had popped the question earlier this week on Instagram while the pair were in Ireland.
While showing off her ring, Revilla opened up on how she had dreamed of visiting Ireland as a child. Alongside the post, she wrote: "When I was pining to go to Ireland as a young girl, I would tell people it was because 'If magic exists, it has to be in Ireland.'"
CELEBRITY: Nicolas Cage's fifth wife is 31 years younger than him
How old is Sheamus's fiancée?
After announcing news of her engagement to WWE star Sheamus online some were curious to know Isabella Revilla's age.
Revilla is currently 25 years old and celebrated her birthday in December last year. At the time, Revilla opened up on how she shares a birthday with both her twin sister and father on Instagram.
She explained: "I get to share the same birthday with two of the coolest people I know. That's the best gift. Happy birthday to @miranda.revilla and our amazing Dad! #twins #Dad #birthday. "
In a separate Instagram post, her twin sister Miranda revealed they were celebrating their 25th birthday which would mean Isabella Revilla and Sheamus who is 43 have an age gap of 18 years.
Related Topics