New documentary Won't Back Down explores the trials, tribulations and activism of former politician Gabby Dee Giffords, who suffered a gunshot wound to the head in 2011 – a nine-year-old child was among those who died in the tragic attack.
Her shooter, later identified as Jared Lee Loughner, pled guilty to 19 charges of murder and attempted murder in connection with the January 8, 2011, Tucson shooting.
Gabby married her husband Mark Kelly in 2007. He's an American businessman, retired astronaut and former US Navy captain.
They never had children together, but Gabby Giffords inherited her husband's two children as her stepchildren when they married. Who are they, and in what way has Giffords factored children into her political activism?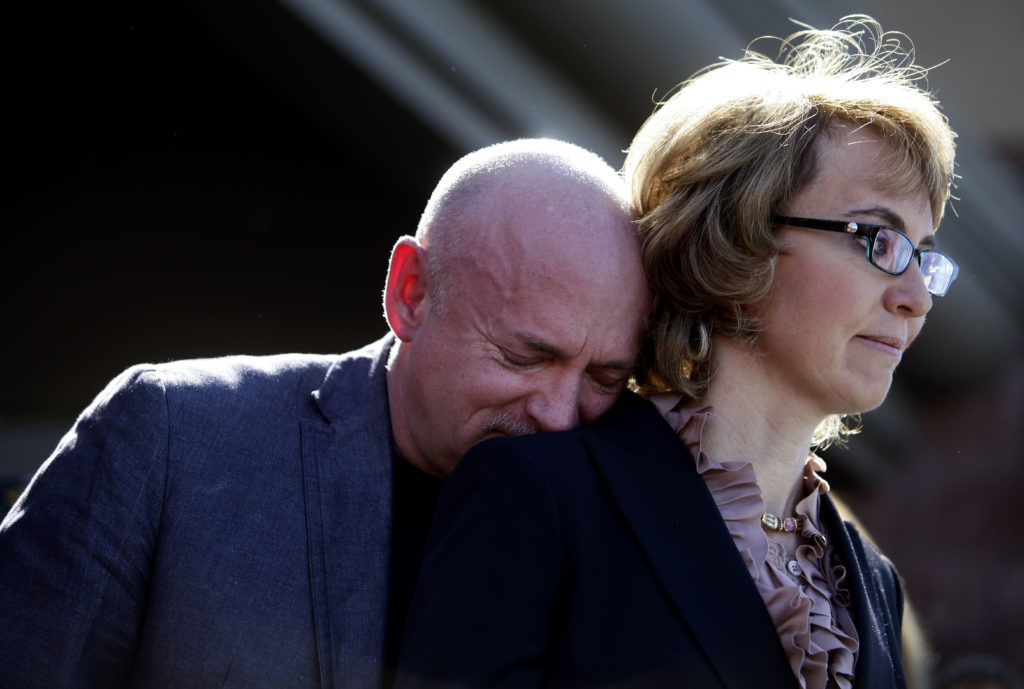 Who are Gabby Giffords' two step-children?
Gabby Giffords is Mark Kelly's second wife. His first marriage, to Amelia Victoria Babis, lasted from 1989 until their divorce in 2004.
He and Babis had two children together, both daughters. The elder, Claudia Kelly, became engaged to her partner Mark Sundman in April 2020.
Her father tweeted that he was looking forward to "welcoming another Mark into the family".
Their wedding didn't take place until much later, however – possibly because of the Covid-19 pandemic that prompted national lockdowns soon after their engagement.
When did Claudia Kelly marry her husband – Gabby Giffords' stepson-in-law?
Claudia Kelly married her husband on March 5, 2022, according to Instagram posts from her younger sister Claire. "And just like that", Claire wrote, "she's a wife."
She gave birth to their daughter, Sage Kelly Sundman, on May 29, 2021, meaning she's just recently turned one year old.
"Bringing you into the world and carrying you in my body has been the greatest joy of my life", she wrote on Instagram at the time. "I couldn't have embarked on this journey without [Mark Sundman]. I can't wait to raise this perfect human with you!"
People reported at the time that Sage was Gabby Giffords and Mark Kelly's first grandchild – Claudia is the elder of Mark's two children and was the first to have a child of her own. They "couldn't be happier" to welcome her to the family.
What about Claudia's younger sister Claire?
Claire Kelly – the younger of Gabby Giffords' two step-children – lives in New York City.
Claudia attended the National Outdoor Leadership School (NOLS) from 2008 to 2009, which young people usually do in between college and university. It's typically a "gap year" program. One might infer, therefore, that she was 18 when she started it – in 2008 – and was born in 1990. If so, she'll be 32 by the end of 2022; Claire, meanwhile, will turn 25 in a matter of days.
That means the age difference between Claudia and Claire Kelly is about seven years.
Claire is active on social media. She attended Arizona State University – which she left in 2019 – currently has over 4,000 followers on Instagram, and appears to be an admirer of Hillary Clinton.
How has Gabby Giffords factored children's rights into her political activism?
In 2005, while in office as a member of the Arizona senate, Giffords counted low educational achievement among the "significant problems" that received "far less attention than they deserve".
She is a critic of the No Child Left Behind law, and worked on the bipartisan Children's Caucus, with a view to improving children's education and healthcare in Arizona.
In January 2013, she was a surprise witness at a senate judiciary committee hearing on gun violence. She used the opportunity to call for Congress to pass tougher laws on guns. 
"Too many children are dying", Gabby Giffords told the senate committee. She spoke just 80 "halting" words, Yahoo reported at the time. "But her presence was powerful."
Related Topics