Former NCIS star Emily Wickersham has announced she is pregnant. The star shared the news in a post on Instagram today (Friday, 30 July). Now some are curious to know more about the actress' love life after she tagged actor James Badge Dale in her pregnancy post.
Emily Wickersham announces she is pregnant On Instagram
Emily Wickersham who is best known for her role on NCIS as agent Ellie Bishop announced she is expecting in a post to her 337,000 followers on Instagram today, (Friday, 30 July).
In the post, Wickersham stood in contrast to a floral backdrop in a matching black bikini as she showed off her growing baby bump.
Captioning the snap, the actress revealed it was her mother behind the camera as she gushed about the sweet moment. She wrote: "My mom taking a photo of a future mom with a baby boy on the way!"
TRENDING: Who is Sheena Melwani's husband Dinesh aka Trid?
Who is the actress's boyfriend? James Badge Dale was tagged in the announcement
While announcing the news of her pregnancy, Wickersham was seen to tag actor James Badge Dale over her baby bump leading some to wonder if the two are dating.
The pair have both previously featured each other on their Instagram, although they are yet to confirm whether they are together.
Wickersham is seen to have kept her love life out of the spotlight following her split with ex-husband Blake Anderson Hanley.
Wickersham and Hanley who got married in 2010 were together eight years before they were reported to have gone their separate ways in 2018.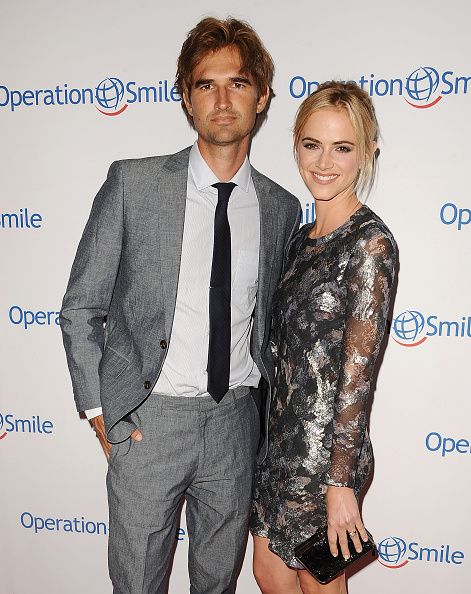 EXPLAINED: Joe Rogan offers theory on Simone Biles' Olympic struggles
Why did Emily Wickersham leave NCIS?
Emily Wickersham is known to many for her role as agent Ellie Bishop on CBS drama series NCIS, having first joined the show's cast in 2013.
However, in May the NCIS star revealed she would be leaving her role on the show after eight years in a post on Instagram.
While the actress did not give a reason for her departure, some sites believe the reason behind her exit could have been to pursue other projects.
Related Topics