Beaded jewellery has been rising in popularity throughout 2020 and has reached fever pitch this summer. The multi-colour necklaces and bangles of the 1990s have made a return and I for one hope they stay!
Celebrities back beaded jewellery
Increasingly featuring on Instagram and on the streets of London during 2020, many have been inspired to invest in a beaded sensation. With the Hadid sisters, Gigi and Bella, and Dua Lipa wearing these chunky and bold beaded designs, the popularity of this much-loved statement piece has gone through the roof.
Matilda Djerf has been an established fan of beaded necklaces. As an influencer she has shown them off to her 1.1m followers on Instagram. Featuring Mathe jewellery, Matilda shows how beaded necklaces can also mix with classic pearls to create a bold contrast.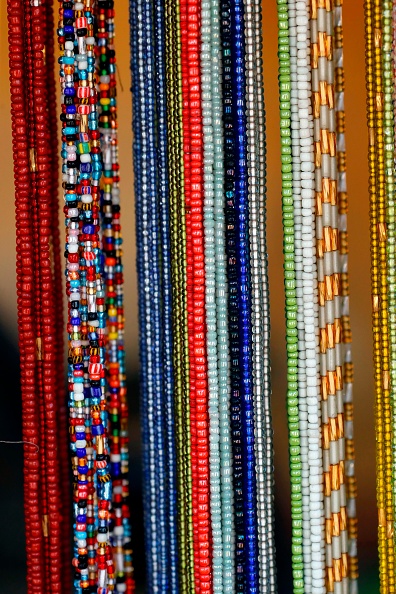 Designers interpret the newest trend
Unlike the colourful plastic beads I adorned when I was a child, designers have put their own spin on this trend. Taking the look to higher levels with chic but bold designs, Isabel Marant has created beautiful beaded necklaces with suitable neutral colours. These earthly tones make it ideal for those less likely to wear popping candy colours.
Simone Rocha has also embraced this trend by focusing on the candy-like elements of beads. Similar to the candy jewellery sold in sweet shops around the world, they have made floral beaded drop earrings almost good enough to eat! This candy aesthetic has to be one of my favourite parts of this trend. It encourages your inner child to come out and explore the fabulous playful accessories available from a range of designers.
Summer nostalgia
This trend also encapsulates the summer with bold to pastel beads proving to be the best beach accessory. Beaded anklets remind me of holidays spent on the beach and tanning and choosing bracelets to take back for my friends. But this trend has been taken further than the European beach towns to a now global trend.
Although fewer people will be going abroad this year beaded jewellery is ideal for nostalgia of past holidays as well as the 1990s filled with these statement pieces. Hopefully this trend will continue into autumn and winter adding statement pieces to every grey day.